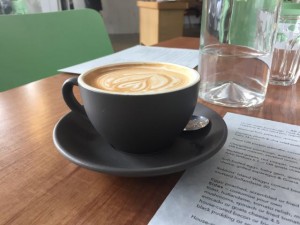 Finally someone has taken this fantastic building in prime position near the market and made it a light, bright, funky place to be! My Son Joy have done an amazing job, they have cleared out the sad, old and weird and have created a top brunch spot for all the busy shoppers at the market. The staff dance around to the Bangles and it's certainly service with a smile, the coffee is a perfect brew and the menu has plenty of ways to go depending on your mood.
Breakie you can have eggs on toast or you can have something a little more special like coconut, peach chia pudding, lemon myrtle, stone fruits and lemon balm – not sure whether to eat it or wear it as a facemask!! Friend number 1 had the Prana ON (a type of protein powder) pancakes with coconut yoghurt, berries and cacao. It looked beautiful and the plate was scraped clean so I reckon they were pretty good!
You can have your avo on toast too but My Son Joys version come with chargrilled sourdough and avocado with either fermented daikon and mixed herbs for a very reasonable $11 or with bone marrow, sautéed onion, sauce gribiche, parsley for $14. There is a house-smoked kingfish, seaweed, chilli, cucumber or my choice of the day the soft boiled Green eggs with grilled asparagus and Grana Padano, mayonnaise, spring onions, baby gem, goat's cheese.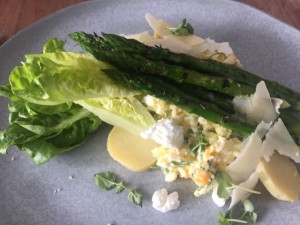 Don't panic when they 'soft boiled Green eggs' I think they mean the chives or the brand!! It was a beautiful dish, for a person who didn't used to like eggs I have definitely been converted lately and I have even tried to replicate the 'egg salad' for lunch this week!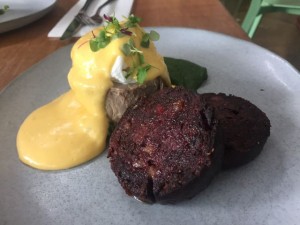 Hubby and Friend Number 2 had the wagyu corned beef with silverbeet smear, poached egg and mustard hollandaise and hubby went for a side of black pudding – a very manly breakfast with a huge hunk of gorgeous beef!
Happy eaters all round!