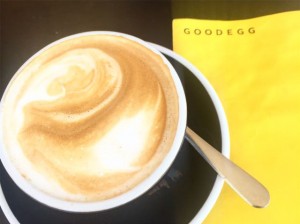 A Cafe dedicated to the humble egg! No really if you are not happy with the egg road then this is not the palce for you! Unless you just eat their hunky potato cakes that are utterly deviant!
We were out looking for a late breakie and just neat South Melbourne Market is The Good Egg offering eggs from around the world!
Also there is a gluten free bun option so I was immediately happy! You can choose from a variety of directions including the simple 'B&E' with bacon, egg, swiss cheese, houses of parliament sauce and mayo. The Mex with sliced avocado, egg, roast corn and black bean salsa, corn chips, jalapeños and lime aioli. The Sal with egg salad with mustard aioli, watercress, rocket and capers.
And then you head off into the bigger dishes with the wagyu burger served with bacon, egg, sharp cheddar, dill pickle and lettuce, bbq sauce and mayo or the fried chicken with salsa verde, egg and iceberg lettuce.
The Bowl with miso soft boiled egg, broccolini, fresh greens and red rice with tamari roasted nuts and seeds and a spiced yoghurt dressing sounded super zen and healthy and for the fish lovers there is a house smoked salmon, egg roll, whipped goat cheese, roasted vine tomatoes, cress, avocado and dukkah.
Totally delicious!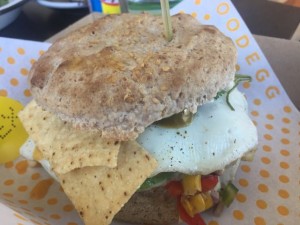 My Mex was off the charts delish, love Avocado, love corn, love jalapeños, love black bean salsa and all combined with a lovely runny sunside up egg.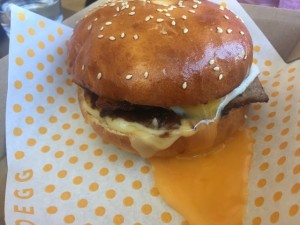 Hubby have the Good Kid with simple bacon and runny egg and brother had the lovely fish and a cheeky side of the potato cakes….. big, bubbling, fried potato cakes, I had to have a nibble ummmmmm so good!!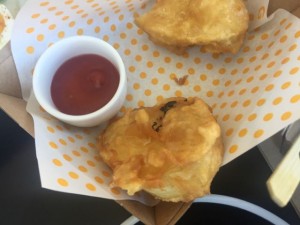 If you love eggs and exploring the different flavours of the world you will definitely find something here to make you smile.