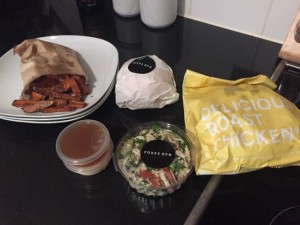 Our menu is created from scratch by our chefs. Everything you see is made in our kitchens because we believe food tastes better when it is freshly prepared. Healthy takeaway food, made by us.
Well that sounds like a good start! We've walked past Foxes Den in Port Melbourne a few times and it looked great so when we were feeling rubbish one night and no inspiration to cook we got this beauty delivered.
Who doesn't love a chicken?
All Foxes chickens are free range, chemical and gluten free and sourced locally from Geelong.
When you say it like that you wonder what you have been buying from other places and what they are full of……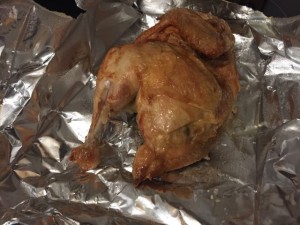 But not here, you can have your super yummy chicken in whole or half, House roast or Moroccan and you can get a serve of 'herb drummies' that sound delish! The chicken was pretty damn good, super juicy and positively angelic compared to the burger bubby was hankering for. Hence Hubby got a Roast Chicken Roll…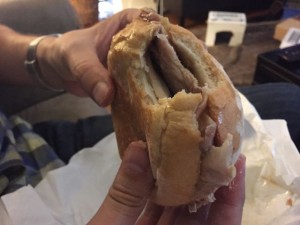 The Classic Fox with roast chicken and gravy in a roll – he was one happy hubby, grinning away and stealing extra chicken from the half roast.
There are also the most amazing salads available with Soba Noodle Salad, Sweet Potato Salad, Paleo Salad, Cleansing Salad, Grilled Greens Salad or Carrot and Harissa Salad – YUM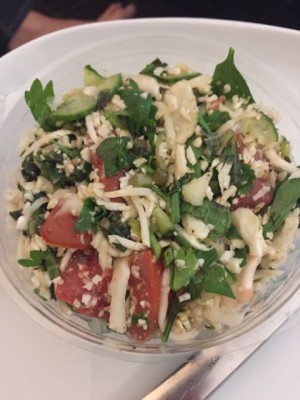 I went the Cauliflower Tabbouleh with tomato, cucumber, mint and barley …. Which I have just realised I am not supposed to have barley on a gluten free diet – ooopps!! Oh well it was great.
Delivered with Deliveroo, you too can have totally healthy take out to your door… if they deliver near you!