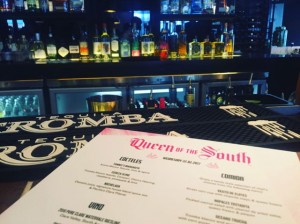 Prahran has a new Queen in town and she is one spicy lady!! Queen of the South has arrived and Foodie About Town was lucky enough to get a preview of the amazing menu and solid, authentic Mexican going down in the bar and the kitchen!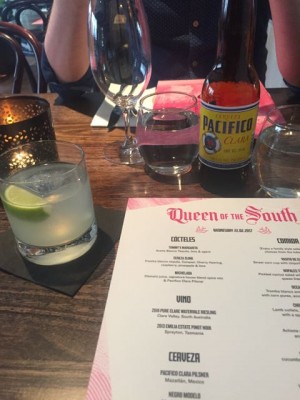 Margaritas were a perfect salty, sour sip and went down a treat whilst we drooled over the amazing menu for the night!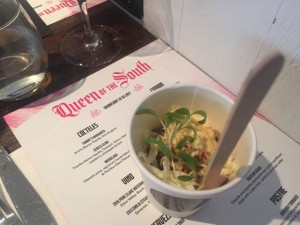 First up was the Vasito de Elote, our resident expert on the table told us how these little snacks are served after church in Mexico usually in little paper cups… and there they were – street corn cups with chipotle mayo and queso fresco. I adore sweetcorn and this might be the best ever! To quote hubby "I would eat a bucket of that"!!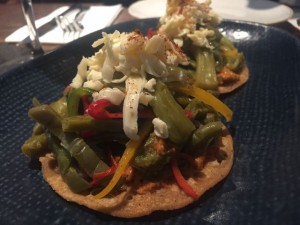 Nopales Tostada with cactus salad, queso fresco and chilli pequin was a crispy disc with spicy warm heat and super fresh lovely cactus.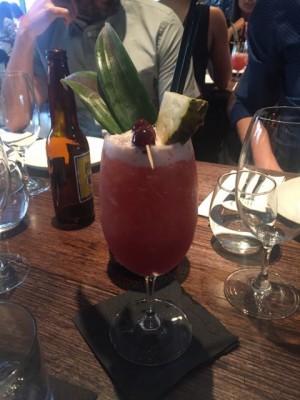 The Cereza Sling cocktail with Tromba Blanco tequila with Campari, cherry Heering, raspberry and pineapple with killer brandy cherries was my kinda cocktail!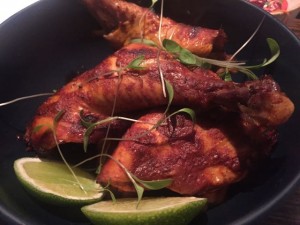 The Pollo Pibill with achiote marinated chicken, pineapple salsa and micro slaw and corn tortillas was really good, loved that salsa and loving it even more that the whole menu appears to be gluten free friendly!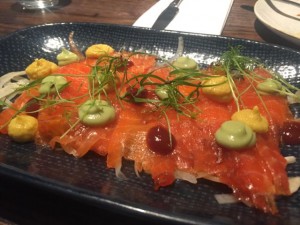 Beautiful Oceano Trucha – Tromba blanco and ancho cured trout with corn puree and soused fennel was another favourite, so many flavour bombs from such pretty dishes!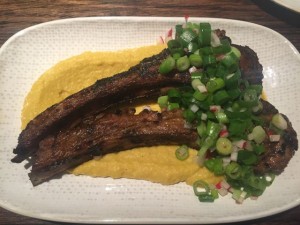 The Chuleta de Cordero – lamb cutlets with pasilla glaze and sweetcorn, spring onions and radish salsa – my lamb was a bit fatty but that sweetcorn puree – did I mention I love sweetcorn! It was like super creamy polenta YUM!!!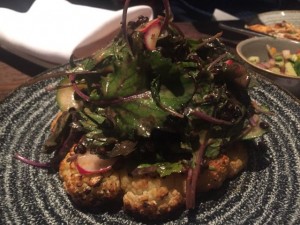 And who can make cauliflower any sexier? The Coliflor Asada – a chipotle and paprika marinated cauliflower steak with kale, radish and cucumber salad. Just stunning!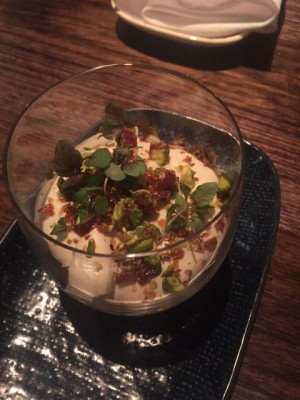 Desserts arrive and we are all getting very full, but dessert goes in a different compartment right? The Espuma De Luna Mexican Mole mousse with pistachio praline and Pedro Ximenez cream was to die for, decadent, rich and a little bit boozey!!
The Tromba blanca poached peaches with guava sorbet and hazelnut and pepita crumble were immense, that crumble was so good and soft lovely peaches…. Hmmmm I wish were right back there eating this menu again right now!
Queen of the South is a definite on the list for Authentic Mexican and a damn good night!