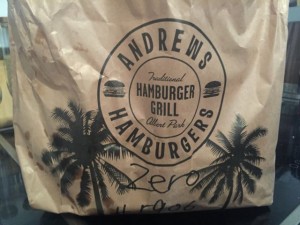 Andrew's Burgers is an institution and now with a second opening in the CBD but the Albert Park shop will always be the heart and even better there is now delivery! So on a lazy Friday night you can enjoy burgers galore!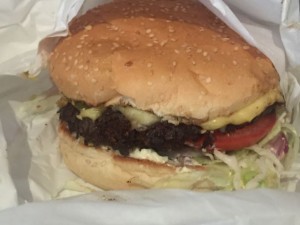 Rusty American – With onions, double cheese, lettuce and hand cut pickles. Topped with mayo, American mustard and tomato sauce in a sweet bun. Hubby was pretty happy!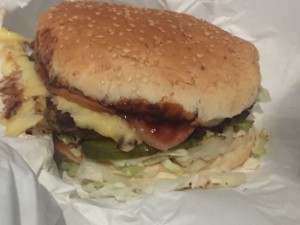 The 'Sanchez Mexican' with lettuce, fresh tomato, red onion, double cheese, jalapeno, sour cream and hot sauce was a bit much, even for a spice fiend like me! The hot sauce was a fiery little number and there was a lot of onion but it was a good burger, you'll need both hands for this baby!!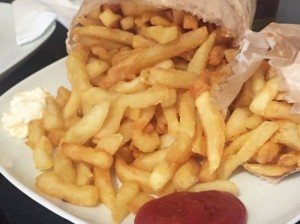 And because we were feeling naughty we got a mountain of fries!!!
Perfect Friday Burger night in!
Previously visited 23rd June 2012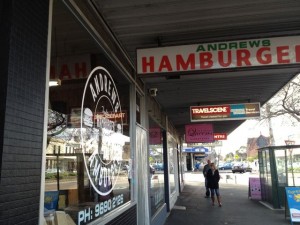 Andrews Hamburgers – an institution of burgers since 1939!
The guys have built a big brand with good burgers and there is always a queue for their traditional cheese or a burger with the lot! Ofcourse they have chicken burgers, veggie, dim sims and more but I love a good simple cheese!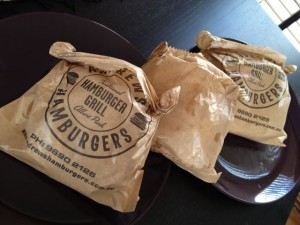 So fries – all good, salty, hot tick! (We have run out of ketchup so slight fail!!)
But the burger….. the burger was great!
Roll – good, firm, held well!!
Burger – good size, good char and tasty!
Accompaniments – browned onions been a while and really nice, excellent cheese, ketchup and a touch of lettuce!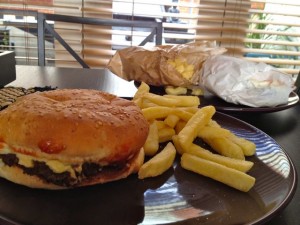 Nice staff and loving the We Love Andrews bumper stickers! See you again real soon!!