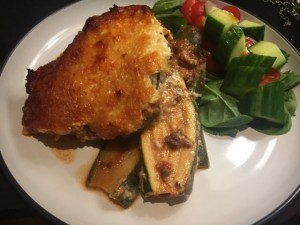 Serves 6
Ingredients for the bolognese;
500g Lean mince beef
2 onions diced
3 stalks of celery
250g mushrooms sliced
1/2 red capsicum diced
Can of crushed tomatoes 400g
Sachet of salt reduced tomato paste
Empty can of boiling water
1tsp of powdered beef stock
1tbl of worchestershire sauce
1tbk of dark soy
Teaspoon
1 tsp mixed herbs
1/2 tsp Rosemary
1 tsp oregano
1/2 cup of red wine
Rest of ingredients;
8 small zucchini
400g low fat ricotta
1/2 cup of skim milk
250gs of grated Parmesan
Method:
Brown the onions for five mins in a pinch of salt and pepper, no oil, pop a bit of water in if they stick. Add the celery and herbs for two minutes and then the mince. Break up the mince and stir until most of the mince has browned.
Add the rest of the ingredients and leave on a low simmer for 3 hours. Make sure you stir frequently and if the sauce starts to dry add more boiling water.
Too assemble slice the zucchini longways and try and get 3 or 4 slices out of each drowning how big but slices should be around 5mm.
Mix the ricotta and milk together.
Place a layer of zucchini on the bottom of a deep casserole dish approx. 30 x 30cms. Then layer 1 cup of the mince or enough to cover sparsely. Then later 1/2 cup of ricotta and sprinkle with a handful of Parmesan. Repeat three times, on the final pour cover with all of the remaining ricotta and two good handful of Parmesan.
Bake in the oven for 1 hour on 180 degrees. I prefer to have mine the following day when the mixture has cooled and then warm through again in the oven for 180 degrees for an hour and fifteen.