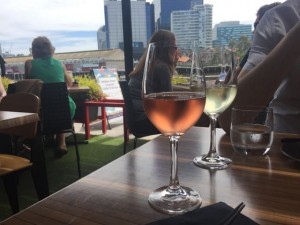 A little Japanese by the river in the sunshine? Why not! Akochochin has been around for a while now and it still looks brand new, the service is always impeccable and the food fabulous. The menu has a lot to choose from so every time you go it can be different!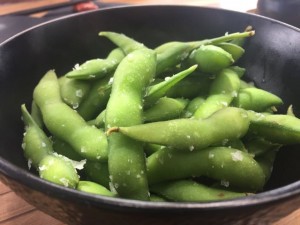 We started off with big fat edamame, just a little salt and you can just sitting there popping those babies for the afternoon, perfect with a cold glass of Rose.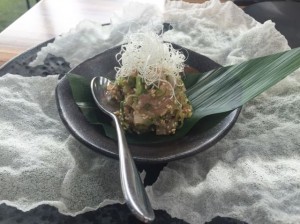 The Kingfish tartare with wasabi, miso and rice crackers was spectacular, so fresh and that punchy wasabi is great.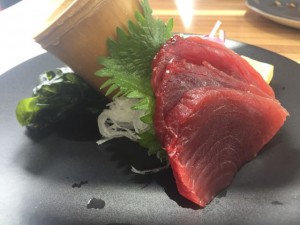 Super fresh tuna sashimi with wasabi, soy and fresh ginger – YUM!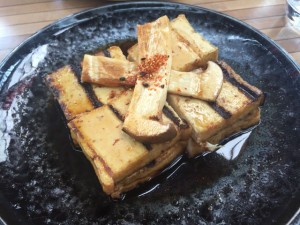 The tofu was a surprise request from hubby and it was so good, a very generous serve with heaps of flavour and those handsome mushrooms on top! The grilled chicken was a bit fatty for me but the dressing was very tasty!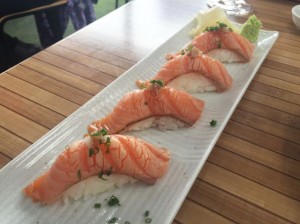 The seared salmon was a beautiful final dish, already dressed and ready to go, it was a winner!!
Akochochin – put it on your list!
Previously Visited Feb 2015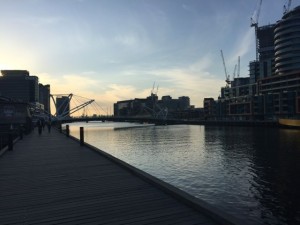 South Wharf has a lot to offer these days with not only lots of shopping at the DFO centre but lots of bars and restaurants across many cuisines for you to enjoy and now summer is here it is a pretty lovely spot to spend a night. Akochochin has been there since the first places opened and is as great today as it was the first time we went. Offering a wide range of sushi, yakatori and many of their own signature dishes this is a great place to enjoy a sunset meal by the river.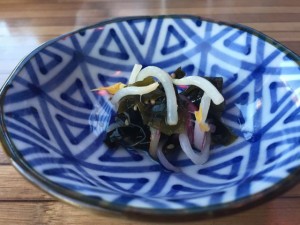 We started off with a complimentary little salad, beautiful, zingy and pretty as a picture.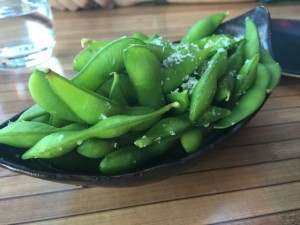 Lovely edamame steamed soybeans served with sea salt and perfect with a cold Yarra Valley Pinot Grigio.
Kaki – Three oysters served three different ways was exceptional. Perfect, fresh, plump and expertly shucked oysters. Au Natural was sensational with a tiny tweak of lemon. Ponzu dressing in the second and then oyster confit which tasted absolutely beautiful. This is one hell of a dish just hiding innocently on the menu.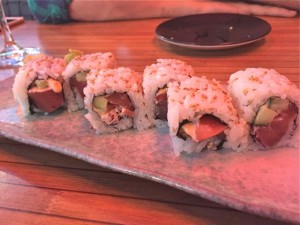 Spicy tuna maki with super fresh Tuna, chilli-mayo and tankasu inside-out sushi roll coated with sesame seeds is a fantastic mouthful. loved each one!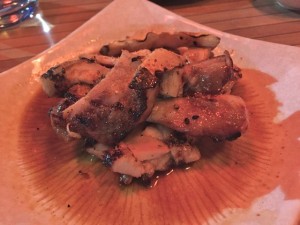 Photos not so good as the sunset! Tori chicken was simple and perfect.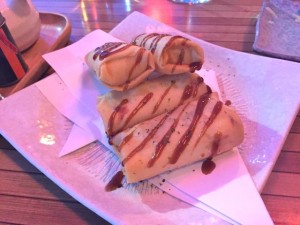 The Kani Cream Harumaki Spring rolls with a creamy spanner crab filling topped with okonomiyaki sauce and ao-nori were my most favourite spring rolls in the whole wide world! So hot, I could barely leave them to cool, they ere so delicious.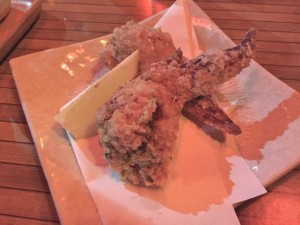 Tebasaki Gyoza – chicken wing dumplings – this is the dish that you see someone else eating as you return from the restroom and track down on the menu to order – Deep-fried chicken wings stuffed with chicken gyoza filling! Oh Yes!! These were so very naughty but so very nice and another unique dish to Akochochin and their amazing team.
This is a great spot, don't miss Mondays where you can enjoy the Chef's degustation with matching sake for $66, or just pop down for an afternoon vino and some of those oysters and chicken wings.