Fancy Hank's? Sure, once we had checked out their uber popular new Palm Springs themed rooftop bar we needed some sustenance and the bar staff were nice enough to nip down and secure us a table before the rush! The fit out is unrecognisable to what used to be here, with a big open dining room, both a little grandiose and modern, there is a massive smoker as you walk in to remind you what treats are in store and their extraction system must be amazing because there is no billowing smoke and saturation of BBQ smells just the gentle hum of delicious brisket and pork.
The menu is good old Southern BBQ – think butter milk biscuits, devilled eggs, baloney, shrimp and maple glazed belly ham or wedge salad, rutabaga, potato salad and coleslaw.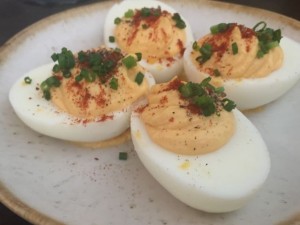 We couldn't eat here and not have a Devilled Egg each, throwback to the 80's English dinner party, these were somewhat less congealed and covered in curry and cayenne spice! These were smooth, creamy and down right gorgeous!!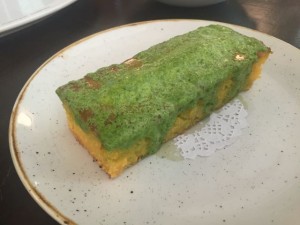 Cornbread with jalepeno butter – as soon as I saw this on the menu I was craving it, and when it arrived it was fantastically green!! Not overly spicey but really very yum!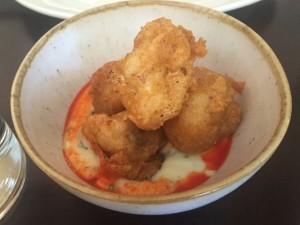 Fried Cauliflower with ranch dressing – wasn't my favourite, I think the ranch dressing was too much for me but the cauliflower was rockin and the semi veggie loved it so much she got in another round whilst we all troffed on the piles of meat!!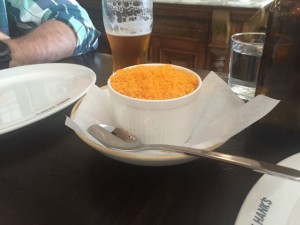 OMG – Baked Mac and Cheese with 'wotsits' not officially called this one the menu but all the ex-pats will know the cheesey Wotsit and most countries have a version of them – think Twisties or cheezels but with a nuclear orange colour! And then crush them over beautiful creamy mac n cheese to make the ultimate cheese bomb!! LOVE!
Fries – been craving them for so long and they were great!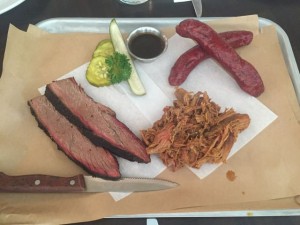 But lets get down to business – Meat is what this place is all about and unfortunately, unless you are a very big eater, you have to choose between – beef brisket, pulled pork, chicken, sausage and ribs…….. WHY? WHY do we have to choose!!??!!
After a few discussions and fair points made – ribs are messy even with friends, chicken maybe hard to share and I really, really want sausage!!
We have the lovely beef brisket, plenty to go around. The pulled pork, I am kind of over it but it was nice. Sausage – The Sausage ROCKED!! Always good to have a little of what you fancy, except we had a lot of what we fancy and I felt a bit ill by the time we were looking at desserts I was bursting at the seams…. No more bar crawling for us after that feast!
It's a great spot, they have set themselves up for success and I am imagine there will be many a good night on that rooftop too.