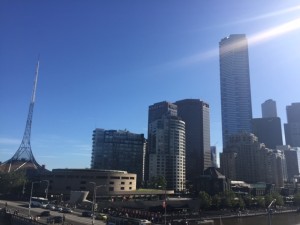 Find out some of the top-tastic things to put on your social media and make everyone jealous this month!
December 2016
It's Christmas Crazy time and in between the Xmas parties and shopping there are still plenty of foodie fun things to enjoy.
1) The Royal Croquet Club returns to Melbourne for sessions of sun, sounds, eats and a touch of croquet darling!
Birrarung Marr
Thu 8 Dec – Fri 23 Dec
Mon – Fri 5pm till late
Sat – Sun 12pm till late
FOOD from – Gelato Messina, 8 Bit Burgers, Up In Smoke, Hoy Pinoy, POW Kitchen, Lil' Nom Nom's
MUSIC from – Airwolf, Aston Shuffle, Cleopold, Dope Lemon (Angus Stone), Electric Fields, Fortunes, Generic, Hayden James (DJ SET), Jarryd James, KLP (DJ SET), Klue, neck, Stace Cadet, Touch Sensitive and Wealth
Find out more here
2) Hopscotch Bar opens on Southbank 9th Dec
A downbeat gathering place with a beer for every occasion and the craftiest of the all will feature as a boutique batch from the custom microbrewery scheduled to arrive on site in early January. An exclusive brew will change every month and is personally prepared by local Victorian makers. Coming to Southbank this December. Found on the riverside promenade overlooking the city, Melbourne's new Urban Beer Bar is more like your dream backyard complete with 30 flavours of beer on tap.
Find out more here
3) Queen Victoria Summer Night Markets are back on
Enjoy the light evenings and some great food and drink, the markets are themed this time around with Rockabilly night, a Latin night, a Movember Shave Down, an International Women's Night, and more. Enjoy 400 Gradi 'Trapizzino' pizza pockets, direct from Rome, Wonderbao, Toasta, The Pimm's Garden, Coopers limited edition Amber Ale and more!
Find out more here
4) Friday Nights at the NGV – 6 – 10pm
Feeling like you never get the chance to go and check out the NGV's latest exhibitions? Feel like a drink on Friday night? Let's do both!
Until March you can enjoy a night of groovin' and art with late nights sessions. With local and International acts scheduled this month you can grab a look at;
Dappled Cities, Fri December 2
Tangents, Fri Dec 9
Models, Fri Dec 16
Damian Cowell's Disco Machine (With Tony Martin) Presents: Disco Christmas, Fri Dec 23
Cash Savage and the Last Drinks, Fri Dec 30
December exhibitions include Viktor & Rolf: Fashion Artists and David Hockney.
Find out more here
5) Coburg Night Markets
Back for the seventh season until 16th Dec enjoy over 80 stalls of food and local produce as well as live music, it's a bubbling culture pot that the whole family can enjoy.
Find out more at http://coburgnightmarket.com.au/
6) Don't forget to check out Garden State Hotel
One of the biggest new indoor / outdoor pubs in Melbourne's CBD, you have to visit just to appreciate how they managed to get a place this size down Flinders Lane! It's got a great atmos, plenty of seats and the food looks pretty damn good too!
Find out more here