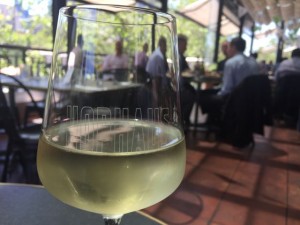 If you love German food you have to try out the Hophaus, not only do you get a litre of beer in a proper big glass tankard but you also get some of my favourite Deutsche Wurst and Schnitzel and a gorgeous view over the Yarra to boot!!
Snack on some small bites with that big beer including the 'Bretzel' – a german bread pretzel with Sea salt, pickles and house whipped butter. The Crumbed Cheese Sticks are oozey, gooey, cheesy, stringy gorgeousness! Enjoy Oysters, mussels or a 'Bitterballen' House smoked pulled beef with cheese, the real deal Löwensenf mustard. There are lighter meal options with good old Spatzle and some salads but what you really want are the gigantic plates of hunkin meet and knuckle!!
Schnitzels are amazing with traditional breaded with German potato salad, sauerkraut and lemon or my fave the Jägerschnitzel – Pan fried pork with a lovely creamy mushroom sauce. You can also fill up on Slow Cooked Beef Cheek, Crispy Pork Knuckle, Sirloin Steak, Coal spit roasted lamb shoulder and the Wurstplatten with Walmas signature sausages galore – I am still to see hubby finish this one!!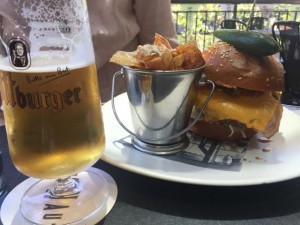 But Sausages don't stop there with the Cheese Kransky and a classic Bratwurst both served with the real deal curry ketchup (insert Love hearts from my tummy!!) Hubby went The 'Hamburg'er with Angus beef, bier braised onions, cheddar, kaiserfleisch, kraut, smokey mayonnaise, brioche bun and fried potato salad (which is essentially warmed up potato crisps and not worth serving considering how good everything else is here!). It was a good burger, solid bun but it couldn't cope with the juicy krout and collapsed half way in, burger was tasty and hubby seemed happy.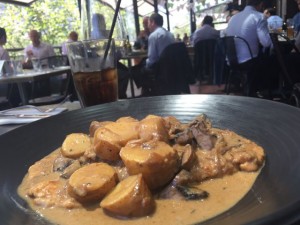 I had to go the Jägerschnitzel my absolute favourite from many years spent in Germany and I still swear this is the best version I have found in Australia. You can't beat that sauce, in fact you could put it on anything and I would love it!!
The wine list is always decent, the beer flows all night and the staff are always chipper!! It's a great place to spend a little time.
Previously visited Jan 2016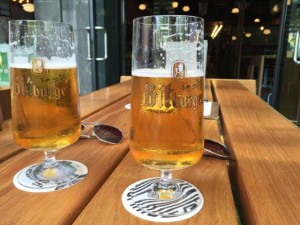 I love Hophaus, having spent a lot of time in Germany I crave a bit of schnitzel and wurst from time to time and Hophaus is one of my absolute faves. It's kind of hidden away on Southbank but find the right escalator and head on up to a friendly, fresh take on steins of beer and plates of hunking pork knuckles and sausage.
Enjoy a full menu across 'Kleine Speisen – Small eats including 'Bretzels' with whipped butter, Crumbed Cheese Sticks, Oysters – fried in Weissbier batter, Bitterballen or Hot Smoked Salmon Rillettes. The bigger meals are where my mouth starts to really water….. Chicken, Weiner or Jägers Schnitzel – ROCK my world! But there is also House Spätzle, Smoked Brisket, Wurstplatten and Crispy Pork Knuckle with Bavarian red cabbage, spiced apple and house crackle – crackle on!!!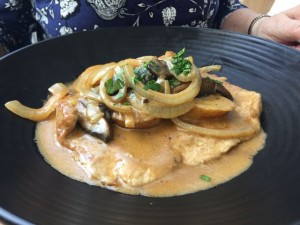 Jägerschnitzel – Panfried pork with amazing mushroom sauce is one of my favourite dishes in the whole world and I can do a pretty mean Jäger sauce but when I want someone else to do the cooking Hophaus is the best one I have found.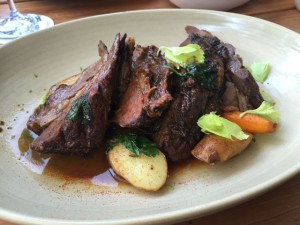 The spit roasted lamb shoulder with carrots and wilted spinach was enough for four! Or at least it made it onto three other plates to a very welcome taste!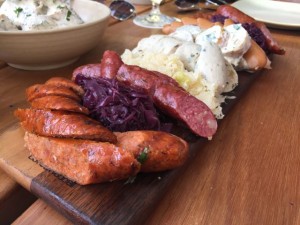 Hubby loves the Wurstplatten – Walmas signature sausages with German potato salad, traditional Löwensenf mustard which I LOVE and red cabbage – it is way too much for one guy but he always has a really good go plus I get to steal a bit to try!! Infact everyone had a share of this too!
It's a top joint for a drink and if you can get a spot on the balcony in the sun, over looking the river I would recommend you order plenty of food to share and stay there for as long as you can! #HappyPlace