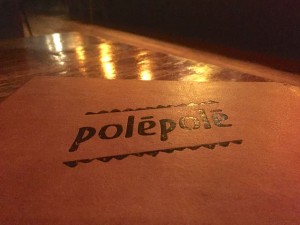 I love the quote on their site to give Polepole some context…..
If you are ever lucky enough to trek up the Majestic Mount Kilimanjaro in Tanzania, you'll no doubt here the guides repeatedly say 'polepole' which means literally slow, both metaphorically and physically. It's about slowing down and enjoying the moment.
Not that the service is anything near slow!! But the mood is and it feels like the kind of place you want to sit back and relax and try some beers and food that you might not have had before.  The menu has a lot to offer on the genre of something a bit different and I was really excited to try some other dishes.  Have you ever tried…. Gato Pima bites – fried split pea and chili fritters with yoghurt? Or House cured Black Angus porterhouse biltong? Or Pickled watermelon with whisky salt, sesame seeds and pickled rind? Definitely not your average dish in the local Thai or Parma at the pub!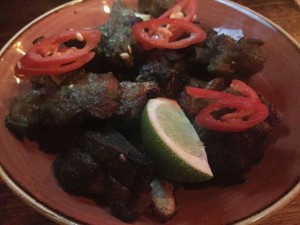 The 'Nyama Choma' goat chops with lime, coriander and chilli were amazing, seriously gnarly and some pretty hefty fat going on but when you find the nuggets of flaking gorgeous meat you feel pretty happy!!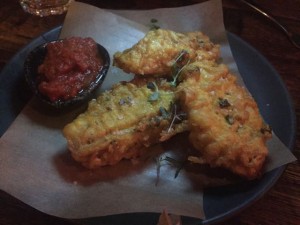 The 'Fry bread' in Mauritian Creole batter, with kasundi was probably not the healthiest choice but it was really delicious!!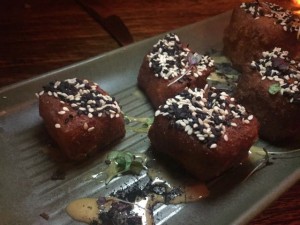 The Applewood smoked fried haloumi, with whipped honey and sesame was very different to any haloumi I have tried before. Big cubes of spongy, cheesy loveliness YUM!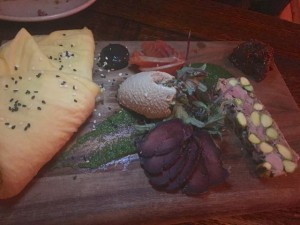 The Meat board at $26 has an array of delights normally containing house made paté, smokey cured pork rib, beef droëwors, house smoked candied salmon. Served with pickles, caramelised onions, and flat bread. We actually had ostrich biltong on ours tonight which I loved, super rich, dark meat!! The flat bread was unusual too, incredibly flaky, doughy breads and perfect with that pate.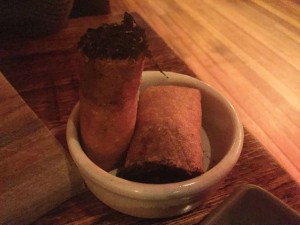 The meat cigars were big fat, meat packed pastries and though a little salty were well worth their $12 and I could go a round now with a cold beer!
 
The menu has plenty more to offer but we were just in for a few snacks, Tuesday is all you can eat meat for $39 – bring back Atkins!! There is goat curry, faro salad, sticky fried chicken ribs and desserts take you to White maize pudding or white choc and tahina mousse tart! Bet you never had that one before!!
 
It's a nice place to be, the staff are friendly and helpful and I reckon I could be back their very soon.