Arbory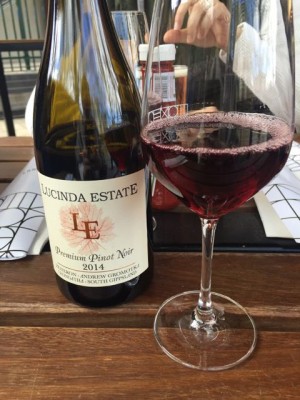 Go to the Arbory and not eat a burger…… why would you be so cruel!?! Healthy eating and making the right choices… not as much fun but hey I can still have a glass or two of Pinot so balancing it all up! The Arbory continues to resonate with a wide group of Melbournians and we went early on a Sunday to make sure we got a table for a special birthday lunch, within 30 minutes of us arriving there was barely a free seat to be found. And why wouldn't you want to be here, sandwiched between the river and train station, there is a certain romance about the place and as I sat back with a glass of bubbles the Spring sunshine crept through the trees and I could smell the burgers starting to grill and I had to pick up a menu and appreciate what else was on the table to enjoy.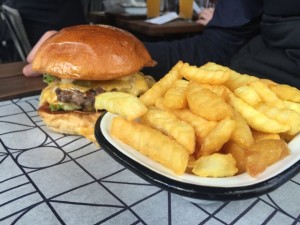 So we know we love the burgers including the crispy fish burger that rocks my world and a sensational Crumbed Mushroom and Haloumi Burger!! But I am still to try the Chilli Dog with a Cheese Kransky, Spicy Beef, Onion, Cheese and Mustard or the Southern Fried Chicken Burger, Ice burg Lettuce, Pickles and Chipotle or the New England Lobster Roll or the Open Sandwich of Smoked Brisket and Veal Tongue.
Unbelievably I haven't tried all their nibbly yummy treats either, perfect with a bottle of Pinot Grigio you could fill your table (and tummies) with Mushroom Croquettes, Rabbit Buns, Fried Zucchini Flowers, Savoury Profiteroles, Lamb Cutlet, Pea Arancini, Pork and Veal Sausage Rolls or Salt and Pepper Squid. I have tried the Charcuterie Board with plenty of beautiful shaved meats and pickles and bread, it was a good size and perfect for a snack.
There are also a selection of larger dishes perfect if you manage to grab a table for dinner with Porterhouse, King Prawn Risotto, Orecchiette with Broccolini, Chili, Garlic and Pecorino, Roast Chicken or Ora King Salmon with Crushed Pea and Spring Leaves, Ricotta and Candied Lemon.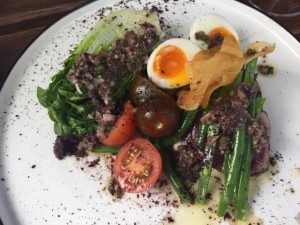 Today the gents go for a big juicy burger and fries and the girls for the Tuna Niçoise with Cos Lettuce, Green Beans, Potato, Tomato, Black Olive and Egg. The tuna was perfectly fresh and perfectly seared, there wasn't a huge amount of it but it was delicious. The black olive really brought the dish alive for me and created harmony across the plate with the more earthy potato and green beans. It was a great dish and I would definitely go for it again…. Though the cheeky bite I had of hubbys burger was also sooooooooooooooooo good!!
It's a top place, when you can get a space!