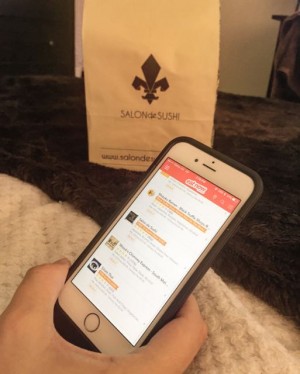 I am both loving and hating the explosion of food delivery services over the last month, the amazing convenience of so many different restaurants delivering to your home at the swipe of a finger BUT then the temptation to never bother cooking ever again and just flop on the couch and let them bring me all of the pizzas, pasta, curry and kebabs…. Not good for the waistline!! We are truly spoilt, especially in the inner burbs where you can pretty much get anything your heart desires in about 30 minutes, though whether it is hot or not is sometimes an issue!
Eat Now is a super easy way to order from a whole list of great restaurants online or through their super easy app and we were more than happy to do a free trial to see how it all worked and enjoy a super lazy evening with dinner selected and delivered within 40 minutes. The hardest part is choosing what to have, there really is a lot to choose from with many of your local vendors as well as those a little further so you can get any and every cuisine to your door with little or no fuss.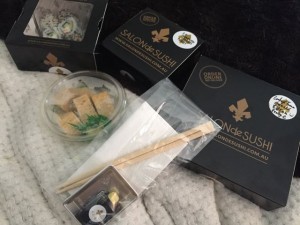 I was craving sushi so we went with Salon De Sushi and once you get over the crazy amount of choice and stop yourself from ordering $100 worth of delicious sounding sushi – they have some less traditional options and a great selection for vegetarians but I love the tempura prawn and the teriyaki chicken plus they serve everything with lots of fresh shaved ginger, wasabi and soy.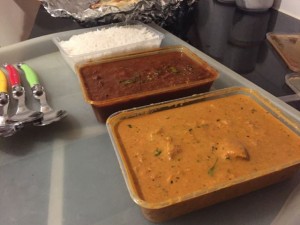 For our second foray we went a little further from home and the perfect accompaniment for a Sunday? Curry and lots of fluffy lovely naan! Diet out the window I want creamy korma and spicy madras and did I mention naans? Lots of naans!! Again too easy to lay on the couch, phone in hand, select curries and naans, pay with Paypal (didn't even have to love and get my credit card) and within minutes there is a message confirming delivery and ahead of the scheduled time was a lovely knock at the door and the most gorgeous, piping hot curry was in our greedy little hands.
Roti Man curry ordered through Eat Now is a winner! It's a no brainer if your fridge is empty, your food inspiration non existent or you just want to be spoiled with whatever you desire arriving before you can finish the next episode on NetFlix.
Check out Eat Now next time you feel peckish online or download their app.
Too Easy!