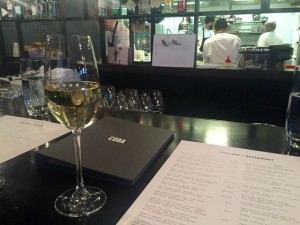 How have I never been to Coda? It's definitely now up there with my favorites. So confession time, I'm not 21 anymore but I'm sure it's still to early for dimensia to be setting in and yet I managed to book my special Coda birthday treat lunch for the wrong day! So they were fully booked but really lovely and sympathetic to my fragile mental state and got us a spot at the bar. A big menu full of grazing options and a fabulous wine list and we started with a beautiful WINE that I am just in love with. And before we could say Oysters the loveliest of the Coda team had organized a table for us as long as we didn't mind sitting next to the potential next round for The Real Housewives of Melbourne!! They promise to be rowdy – I'm already three drinks in front so bring it on!!!
Coda is listed as 'French – Vietnamese' or 'Modern Asian', Coda describes their menu as "designed with a passion for balanced flavours, seasonality and innovation in mind". Dishes have been influenced by Executive Chef, Adam D'Sylva's extensive experience around the globe and his love of freshness and balance within Asian flavours.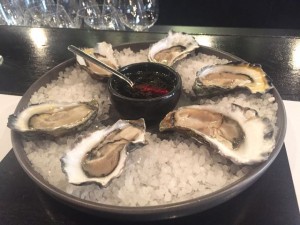 Easy place to start is freshly shucked Oysters perfect with the sparkling and expertly delivered and ready to slice straight off their shells.
Excellent recommendation was the crispy prawn and tapioca betel leaf super crispy and with a beautiful dipping sauce.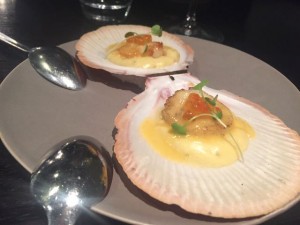 The Hervey Bay scallop, with a pearl tapioca and Yarra Valley salmon caviar was a delicate, creamy dish of wonderful flavours.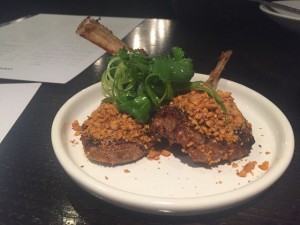 The Nyonya style satay lamb chop with spiced peanut crumb was a ripper and at some point we may have to commit to not eating one of everything from the whole menu!!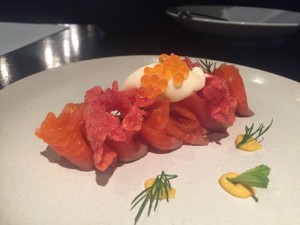 Look at the colour!! The Aperol cured Petuna ocean trout with beetroot tapioca crisps, crème fraîche sorbet and carrot mousse AMAZING!!!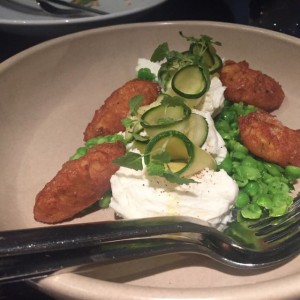 The retro-tastic 'That's Amore' with buffalo mozzarella, zucchini fritters, mint and pea salad – fresh, creamy and beautiful fresh peas.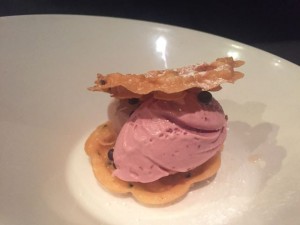 Desserts all sound so good, hubby can't resist the Ice cream sandwich but it's no average sandwich with two types ice cream and a perfect crisp wafer YUM
Could anyone resist the Peanut butter parfait with graham cracker crunch, dark chocolate and marshmallows. Sensational! I was happy to share as long as I got a little ice cream sandwich.