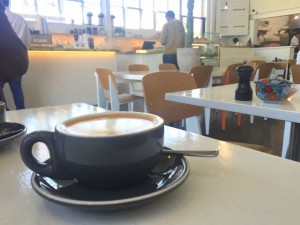 Punchbowl Canteen is the epitome of cool, a bright airy space amongst the industrial chic of the backend of Port Melbourne there is a calmness with the bright white furniture and cute pastel branding. Everything is there for a reason and has been thought through ith great purpose, you can tell just from the juice menu!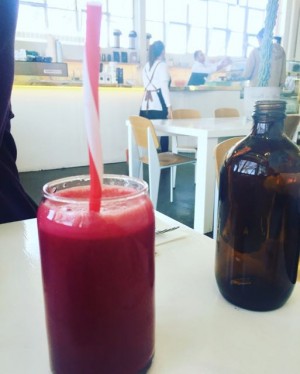 Just Navels – the best oranges, straight up
Cliché – kale, cucumber, apple, celery, mint, lemon
LadyBoy – beetroot, carrot, celery, lemon, ginger
Dad's Secretary – pear, mint, apple
Two Ex You – carrot, orange, pineapple, lemon,
Turmeric, ginger, cayenne pepper
Punchbowl – watermelon, pineapple, apple, orange
So many good choices and that's just the juices. Hubby went for the LadyBoy (not a sentence I thought I would ever type!!!) It was bright purple and had a really good 'burn' with the heat of the ginger – it must be doing you good if it's that colour!!
The menu is hard work…. In that there are so many good choices!
There are Eggs "some ways but not always" (HA!!)
Chia seed pudding with lemon curd, buckinis (ok I learn something everyday – I was going for Blinis made with buckwheat but apparently this is raw, activated buckwheat) with rhubarb and strawberries
Porridge sounds amazing and you get to choose between three ways (the goldilocks dilemma):
1) Oats, poached rhubarb, ginger crumble, with full cream milk
2) Tapioca, fresh lime zest, peanuts, with coconut milk
3) Semolina, poached mandarin, pistachio with full cream milk
All sounds pretty amazing!
AND there are Pumpkin Doughnuts with cinnamon sugar, whipped yoghurt, freeze dried mandarin
Even the obligatory Avocado on toast comes souped up with with blackbean dressing, house tea-smoked trout, poached egg
And delectable sounding 'Vegemite-Gruyere Welsh Rarebit' (real fancy vegemite and cheese) Vegemite, leek, fried eggs sounds bloody7 good to and Thick Cut Bacon with gruyere potato cake, beetroot relish, chipotle mayo and poached eggs is a dish I could eat right now.
And that's just break!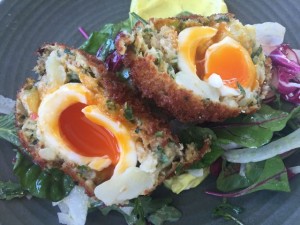 We went for the Fish Cake Scotch Egg with a radish, pear, chard and shaved beetroot salad and curry mayo. Firstly it's always impressive to make a Scotch Egg with anything, getting an egg in there and sealed up and then cooking to runny yolk is no easy feat! But this is a fish scotch egg so we are taking out the timely layer of pork and working with a fish jacket. They did a great job, it has a looser consistency than the pork meat that forms a very firm outer but it tasted real good and the salad was exceptional as was that curry mayo.
The more lunch type dishes start to get into some serious food with a mouth watering list that all sound great….
Warm red curry chicken salad with Asian slaw, peanuts
Baked Semolina Gnocchi with cauliflower cheese, hazelnuts
Pork & Veal Meatballs with kale polenta, parmesan
Wood-fire Pork Belly with carrot and miso puree, apple remoulade
Beef Cheek Burger and redkraut, emmental, pickled onions, side padron peppers, fries
Korean Fried Chicken Burger with Kim chi slaw and fries
Oh Yes! But then there are specials too and hubby was overjoyed with three simple words……. Fish Finger Sandwich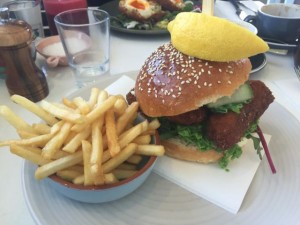 It was immense, three big crunchy fried fish fingers with smashed peas, pickled cucumber and seaweed tartare – OMG it was beautiful, it was a handful but it was so good, the fish was gorgeous and the pickled cucumber and seaweed tartare added a lovely sweet and sour to it all. WINNER!!!!
It's a top place, with plenty of chairs outside to sit in the sun and there was even a dodgy topless old man cyclist hanging with his possy… I think that one is optional! Great food, great juice and a good walk for us on a weekend. Top Spot!