You have to love a good local pub steak night, The Railway Hotel has been a bit quiet sometimes but not anymore, word is out and their $17.50 350 gram porterhouse is drawing in quite a crowd. We were lucky to get one of the last tables and settle in for a night of eating great food near an open fire and with great service….. happy sigh!!
So it's a good all rounder, good outside area when weather permits, nice bar area and then more 'bistro' area. Mondays is pasta night, Tuesday parma and Wednesday Steak night. It's a damn good deal with 350 grams of good quality meat cooked well and comes with a sauce and your choice of two sides – chips, salad, veghies or sweet potato fries – sensational!!
But hang on, there is a full menu you can take advantage of with all the yummy carb killer snacks to enjoy with a beer or two, bruschetta, meatballs, garlic bread, chicken strips, calamari and saganaki – ALL of the above please!!
Ok not allowed all of them but we did get the cheesy garlic bread which was that totally indulgent, pungent garlic, parsley and slathering of melted lovely cheese……………. Droooollllllll!!!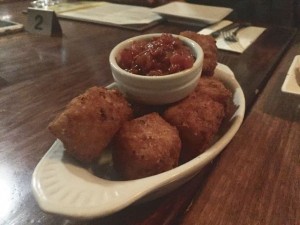 Mac and Cheese squares with a little cheeky bacon inside were nice, good crispy breaded outer and cheesey inside.
Mains available everyday cover off pretty much all expectations with burger, steak sanger, lamb salad, stuffed chicken breast, fettuchini, shanks and risotto – FULL on that's a lot for any kitchen to smash!!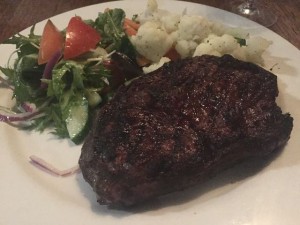 And they do smash a steak, always great quality meat and cooked perfect medium rare, barely need your knife to cut it, it's so tender.
Reasonable priced wines on the go and the boys enjoy a few beers too.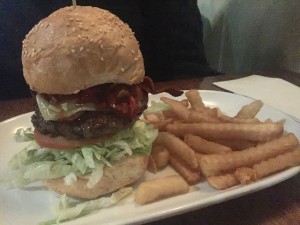 Hubby went the burger…. Why?!?@#??!! I didn't seem great but it could have been total steak envy ruining his night!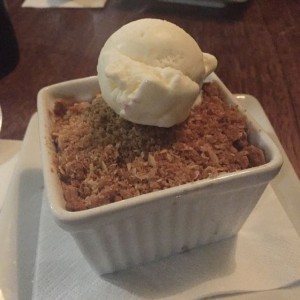 BUT wait – there are $5 desserts?! Are you kidding? With my every developing sweet tooth I am totally there! Eton mess, Apple crumble and tiramisu – they were all bloody great for $5!!
It's dangerously good and your bill will make you smile!
#Loveagoodlocal!