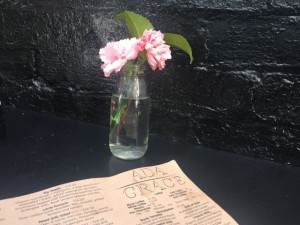 Ada Grace is a great spot in the sunshine down a little side street of busy South Melbourne there is some very nice coffee and a really good menu to satisfy all cravings.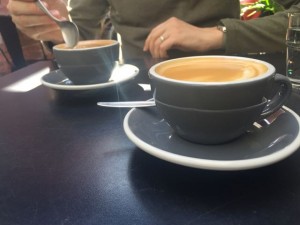 Buttermilk and White Chocolate Pancakes – Served with fresh figs, strawberries and blackberries, topped with white chocolate flakes, and a side of canadian maple – HELL YES!! Corn Fritters with Smoked bacon, fresh avocado and poached eggs. For big appetites you can go The Big Breakfast Board for $20.50 with toast, eggs, smoked bacon, chorizo, roast tomato, mushrooms, sweet potato rosti and saganaki….. WOW, that would be a substantial plate to carry and eat!! Enjoy eggs benedict or the Paleo Pumpkin & Spinach Loaf with Fresh Avocado, cherry tomatoes, a poached egg and snow pea tendrils. The Rosti Breakfast comes with Sweet potato rosti, smoked bacon, grilled tomato, asparagus, poached eggs, housemade relish and hollandaise or the Ada Grace Stack with Desiree potato rosti, sautéed spinach, fresh smoked salmon, feta, poached eggs and white truffle oil.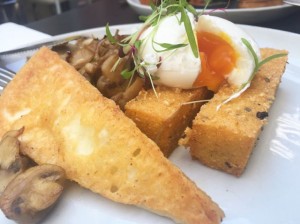 I had to have the 'Thyme Mushroom' a modest dish with oyster, enoki and button mushrooms pan fried and dressed with truffle oil, parmesan crumbled polenta chips, saganaki and a perfectly poached egg. It was such a great dish, a big piece of saganaki all salty and delicious and the polenta chips were gorgeous with their parmesan jackets. Happy, happy foodie!!!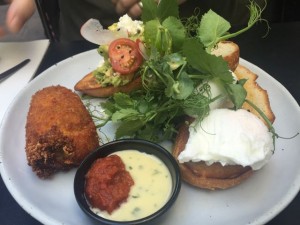 Hubby went for the Smashed Avocado on sourdough toast with feta, cherry tomatoes, red radish and poached eggs PLUS a cheeky side of potato, leek and 3 cheese croquette. There were plenty of pea tendrils for me to steal but there wasn't a huge amount of avocado smash, what was there was lovely and the eggs were great and that naughty croquette was immense!!
Lunch heads off into more mouth watering territory with Slow cooked lamb shoulder focaccia with feta, tzatziki, grilled tomato and spinach or a lovely healthy Mixed Grill Salad with Grilled chicken and lamb, avocado, tomato, carrot, capsicum, blueberries, spinach, house made beetroot relish and aubergine sauce – different but I like the sound of it! There is a Roasted Duck Salad with orange segments, baby radish and mixed leaves topped with crispy pork crackle sounds damn fine!! There's a meaty burger, a chicken burger a lasagne and a duck risotto with crispy duck crackle YUM!!
I think I could easily eat there every week and try something new! The outside toilets were not my favourite but the food was fantastic, we'll be back in our sunny spot soon!