I can't remember the last time I went to a nice Italian restaurant, not the last few were awful but we just don't seem to have been to any! Chiara is lovely, a brilliant choice by my fabulous lunch date, a little bit fancy and a lot of nice! The service is lovely, friendly but getting the job done. It's the kind of place you go for a lunch and end of spending alllllll day!! One more chardonnay please!!
The menu is traditional Italian with a modern twist, every plate looks amazing and you can graze on wagyu bresaola, salami, oysters, cured kingfish or a warm beetroot salad. There is a selection of pizza and focaccia with margherita, calabrese salami, prosciutto or a roasted garlic and herb focaccia… so having that next time!!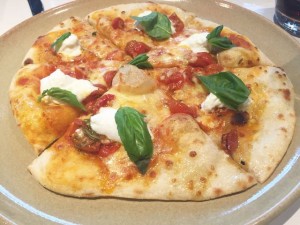 But the traditional margherita with buffalo mozzarella and fresh basic was sensational, the dough was beautifully fresh and bubbling up under the cheese, so happy I am with an over orderer!!
Pasta and Risotto cover off some of the most delisious sounding dishes and I rarely have pasta so it was a tempting list of radicchio and asiago risotto or beef tortellini or orecchiette with pork and fenenel sausage or….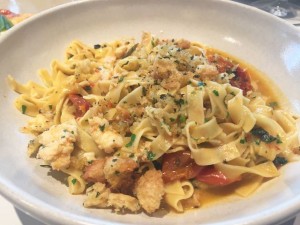 Blue swimmer crab fettucine with tomatoes, chilli, basil, croutons and lots of lovely garlic. It was so good, it was a big serve and I couldn't finish it all but I loved ever mouthful that I had.
Secondi there is a fish of the day, a Berkshire pork belly cacciatore or the bistecca, porterhouse and it looked quite beautiful with horseradish cream, spinach puree, king brown mushrooms and red wine jus.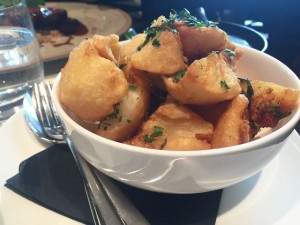 A side of the most amazing crisp rosemary potatoes with confit garlic were the final bowl on the table and even though I was so full I couldn't help just tasting a few – seriously the crunchiest potatoes in town!!
There is a lot to love, it's easy to relax and have some wonderful food and the company helps too!