There is some fierce competition at the moment for best burgers in Melbourne and we have some definite favourites with Arbory, Royale Brothers, Royal Stacks and 8bit providing a steady stream of fabulous, juicy, succulent, wonderful burgers. But 8Bit has more than just one of our favourite burgers – they have sausage too!!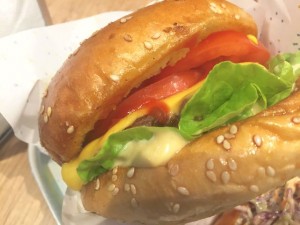 The menu is all good fun with the usual suspects delivered very well, my favourite the 8bit with cheese is a simple Beef patty with Tomato, Lettuce, Red Onion, Pickles, Mustard, Cheese, Ketchup and 8bit Sauce a bargain at $9.50 and a great burger – strong bun, good quality meat, great condiments and all round damn fine!
There are plenty of other more adventurous burgers with the After Burner with Beef, Tomato, Red Onion, Lettuce, Cheese, Chilli Sauce, Jalapeños, Mustard, Chipotle Mayo or the Golden Axe with Crispy Fried Chicken, Cheese, Sriracha Mayo, and Slaw. There's a mushroom burger, the Altered Beast with bacon and onions and a Double Dragon for those greedy buggers who like double everything!!!!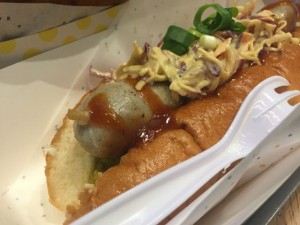 But then, when you have gotten your burger fix you can get a hot dog fix, or even better a Curry Wurst fix! The 8bit dog is a simple Smoked Frank with Grilled Onions, Pickle Relish, Ketchup, Mustard and Spring Onions – a top dog at just $7.50. But then you can get the Wonder Boy with Smoked Frank, Bacon, Grilled Onions, Cheese Sauce, BBQ Sauce and Spring Onions or the Fatal Fury with Jalapeño and Cheddar Sausage, Cheese Sauce, Chilli Beef, Jalapeños and Spring Onions. But my best find of the night was the 1942 – a Grilled Bratwurst with Pickle Relish, Curry Ketchup, Slaw, Mustard Mayo and Spring Onions. The curry ketchup was totally authentic and I would give them a kidney for a bottle! The Slaw was surplus to requirement but it was a damn good brattie and I will be formally addicted and unable to walk past without partaking in one of these babies every time!!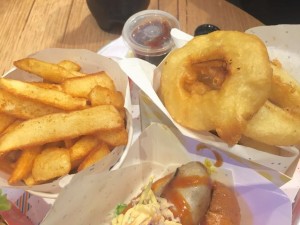 Onion rings are legendary, fries amazing, potato gems delish and loaded fries are killer.
It's definitely a favourite and if you can't get a pew just take that baby home………………… hmmmmm burger…. Hmmmm sausage! WANT NOW!!!