Steak night! It's a tradition like parma night and pasta night, infact some pubs can take care of dinner every night with a bargain foodie theme. I am a big fan of steak night at the mo with my diet consisting of protein and greens so when not wanting to call out I'm being awkward about what I eat, head to a steak night.
Surprisingly tables reserved at Transport for Thursday night $17 steaks. We have only ever been for drinks so I might never have noticed but I'm not a fan of pubs reserving tables, it's not a bistro! Anyway we find a spot and hubby avoid all eye contact with other table hopefuls until the rest of us arrive. It's pretty busy and there is a band on and it's Thursday is the new Friday at Transport with a great vibe going on and the bar is three deep.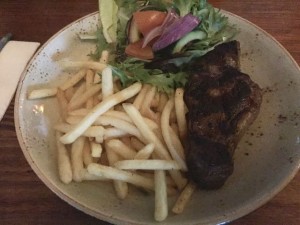 Three of us go the steak option with sauce if wanted and chips with salad. They don't take too long and I am really pleased that it looks like a good steak. The veggie burger doesn't look totally awful either! Hubby is happy to exchange my chips for his salad and we are off! Steak is perfect medium rare – impressed and I enjoyed it until I hit a horrible ribbon of thick fat that ran right through and make it impossible to finish…. But to be honest it was probably more than the 100 grams recommended so it all worked out ok.
It was a decent steak, I've had worse, I've had better, I've had cheaper and I've had a lot more expensive – if you need a quick feed and you can find a table it's not a bad option.