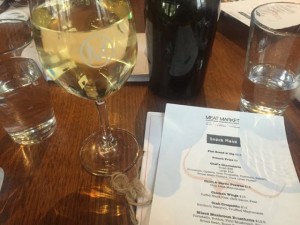 Southwharf is one of those places you forget is so close and has so much good stuff going on with a couple of good pubs, several good restaurants including great Japanese, Vietnamese, Spanish and German. Meat Market is your legendary steak place, with a fridge boasting 1.2kgs Tomahawk steaks you know this is serious! Dinner time can indulge in oysters, croquettes, lamb shanks and pork belly as well as some very reasonably priced steaks with eye fillet, Scotch, Cape Grim Porterhouse or a whole roast duck!
Sadly we are on a bit of a grazing afternoon so there are no steaks for us and the kitchen runs at half speed between 3-5pm but there is a very good bar menu option.
We are with a kiddiewink and it's always interesting to see how people respond as we are generally sans child. The Meat Market girls were lovely, they pulled out a colouring pack with stickers and that worked for a good amount of time even if we might have tried to eat a few… we were hungry!!
So the bar menu was a great list of snacks to keep us going for the day.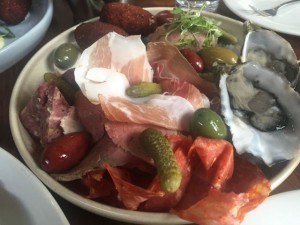 The 'Chef's Charcuterie' with Prosciutto, Oysters, Salami, Pastrami, House Made Terrine, Duck Liver Parfait, Crab Croquette and bread was fabulous, one of the best I have had in ages, beautifully presented and plenty to enjoy. The meats were gorgeous and the parfait was to die for – I'm a sucker for a good pate!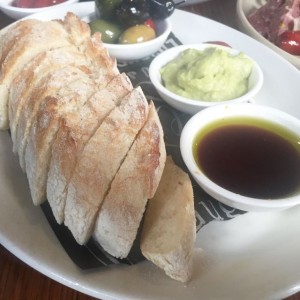 Flat Bread with dips served with olives, house made dips and Olive Oil with vincotto were a good sized serve and that bread – I couldn't get enough!!
The platter comes with a Crab Croquette but they sounded so good we got an extra serve and I am so glad we did – DELISH!! Served with heirloom beetroot and truffled mayonnaise they were crispy fried perfection with a super creamy crab centre.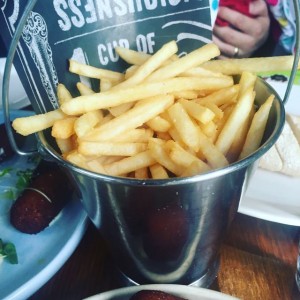 Can't go past a good bucket of hot chips for the table and looking back on this meal – now we are in diet mode – I would eat this right now!!