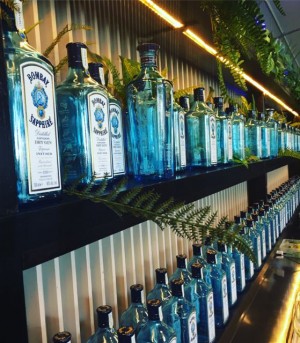 Possibly the luckiest foodie alive, we were recently invited to an exclusive preview of the Bombay Sapphire Project Botanicals event, popping up in Melbourne in September and then Sydney, you will be able to experience some of the amazing Bombay Sapphire Botanical inspired gin cocktails with beautifully matched dishes from the team at Taxi. We were lucky enough to try them all (cue evil laugh!!!) it was a tough afternoon but someone had to do it!!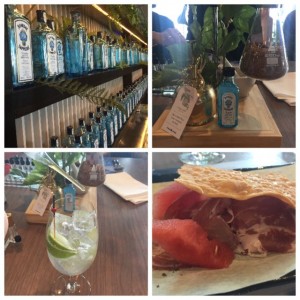 Cocktail number one was the simple and traditional 'Sublime G&T' with Bombay Sapphire, Fever Tree Tonic and Fresh Lime – Perfection! Served with a Grenvale farm Capocollo with juniper compressed melon and crisp bread and truly beautiful, light dish.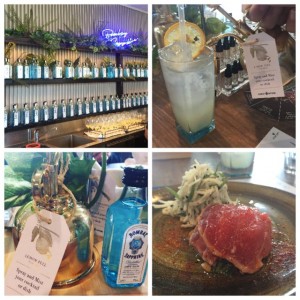 Cocktail number two is the 'Lemon Collins' with Bombay Sapphire, Fresh Lemon Juice, Sugar Syrup and Fever Tree Soda Water – super refreshing and zingy a perfect match with Sake wash Tuna with soybean pesto and yuzu mist. I could eat this dish again right now, incredible fresh and clean flavours.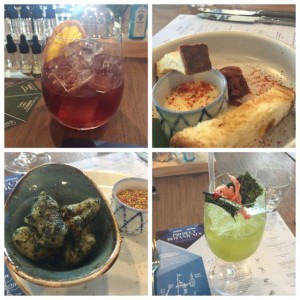 Cocktail number three is the 'Angelica Negroni' just a little cocktail of Bombay Sapphire, Campari, Martini Riserva Rubino, Cocchi Amaro and Carpano Antica Formula WOWSERS, this will wake you up!! Served with one of my favourite dishes – Toasted Brioche with onion jam and raclette fondue, soft. Warm bread, gooey cheese and sticky onions….. heaven!!
We also had our own soundtrack for the day, exclusively mixed by Yolanda be Cool, you too can have some cool tunes with your gin cocktail;
Cocktail number four is the 'Sipping on the DL in Paradise' Created by our friends at Union Electric with Bombay Sapphire, Dry Curacao, Ginger Syrup, Martini Prosecco, Cucumber Juice and Nori Seaweed – Prosecco, ginger, gin and more – a genius cocktail! Ugly little devils, the tempura mussels with salt and vinegar sesame and roasted nori were spectacular!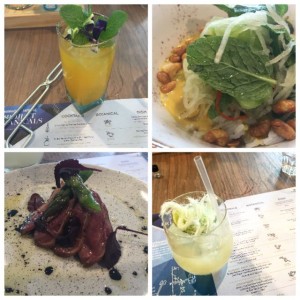 Cocktail number five is the 'Orris Spice Trader' created by the guys at the Gin Palace with Bombay Sapphire, Tumeric and Ginger Syrup, Lime Juice and Soda Water – refreshing and comforting at the same time and with another of my favourite dishes the Okra and Qukes coconut curry. This was a fantastic combination with rich, creamy, spice and all going so well with a lovely bit of gin!!
Cocktail number six is the 'Almond Army and Airforce' created by the team at Lily Blacks with Bombay Sapphire, De Kuyper Apricot, Coffee Beans, Lime Juice, Orgeat Comissionary and Almond Essence – this will wake up the taste buds and get you ready to enjoy your coffee smoked duck with asparagus nut crumble and vanilla dressing. A generous serve if tender, smoked duck with the wonderful nutty asparagus crumble YUM!!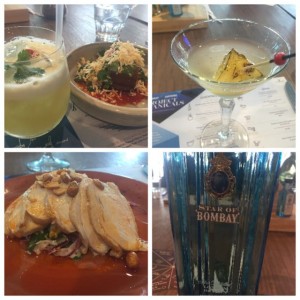 Cocktail number seven is the 'Coriander Fire Punch' by team Taxi with Bombay Sapphire, Lime Juice, Pineapple Juice, Chilli Syrup, Soda and Coriander Leaves – GORGEOUS!! Loved the sweet pineapple playing perfectly with the chilli and coriander and then served with Candy pork with coconut sambal and mild red chili dressing – WINNER! I reckon this will be a best seller at the event, we all love pork and cocktails!!
Cocktail number eight is the 'Cubeb Ananas' with Bombay Sapphire, Pineapple Martini, Riserva Ambratto, Pineapple and Cubeb Berry Syrup – a little pineapple martini is you like, felt very fancy with this one and loved the matching dish of drunken chicken with wombok salad and nashi pear. Tender, succulent poached chicken with a fresh and light salad – love!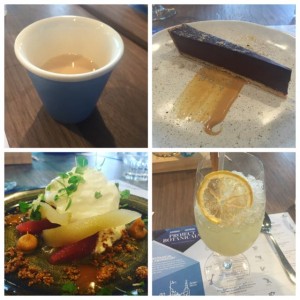 Cocktail number nine is the 'Liquorice Tea Party' with Bombay Sapphire, Liquorice Tea, Almond Milk, Condensed Milk and Lemon Curd – a warm cocktail, on a cold afternoon and matched with Zokoko chocolate tart and caramelised milk jam…………….. I dare you not to love this but want to curl up for a nap afterwards!!
Cocktail number ten is the 'Fig and Cassia Swizzle' with Bombay Sapphire, Fresh Lemon Juice, Fig And Cinnamon Syrup and Apple Juice – we had a few cocktails before this one and yet it still managed to stand out as a little different with that fig and cinnamon syrup – hic!! And the final dish for us poached pear with goats yoghurt foam and pink grapefruit, again so fresh and clean, we ate a lot of food in our whistle stop tour of Project Botanicals and I would very much recommend you get yourself some tickets before they sell out. You can enjoy 2 cocktails with matched dishes for just $49 from the 8th September to the 18th – so get in quick, they will sell fast!!
To find out more and buy your tickets click here