Ramen – simply put it's noodles in a soupy broth with meat or vegetables. Not sure whether I have had true ramen before but we went to a truly authentic ramen shop in Russell Street, not sure who came first Shujinko ramen or the Mortal Kombat character but it all feels like we have travelled across the seas to a far more peaceful place. It's a tiny little place, probably 30 seats tops and everything small but perfectly formed, I felt like a giant with all my bags and winter coat and brolly trying not to take out my fellow diners as we settled into the four seats at the kitchen window. We wanted to grab a table for four together but once you are in your seat you cannot be moved and it was probably for the best, you need to know someone very well before you watch them inhale a big bowl of noodle soup!!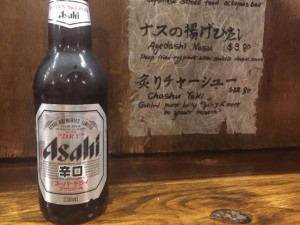 The menu is all about the ramen but there are gyoza, chashu yaki (pork belly people!!) croquette, tofu salad, Aii Fry (fish) and chips if you need a fix!! The ramen is a pretty complex list, there is Yaki Ramen, the Shujinko ramen and not your typical Japanese ramen. There is black ramen with tonkatsu and shellfish soup. There is karakuchi ramen – hot and spicy and the non oily option? There is Tsukemen – a new style of ramen created by Shujinklo woth vegetables and seafood sauce and thick chewy noodles. There is cold ramen with jumbo shrimps and chicken flavoured soup. There is …. A whole lotta ramen!!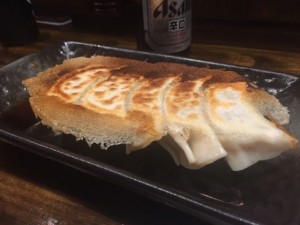 With Asahi all round and gyozas served we are more than happy, gyozas perfect, little crispy dumpling parcels with good pork filling YUM!!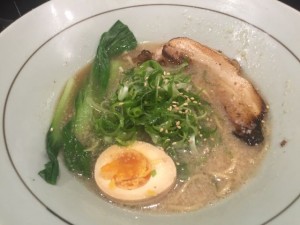 We all went the Shujinko ramen – it seemed to make sense on a first visit, a big steaming bowl of wonderful noodles, egg and a few slithers of their melt in the mouth pork…. Divine! So yet again, thank you for putting us all on the bar so we are not facing each other as the slurping and noodle catching commences! The broth is quite beautiful, delicate but complex and deep, it feels like it's totally medicinal and must be doing you good! Loved the noodles there were plenty of them and the spring onions and sesame all added to the flavours.
It's a quick turnover in this place, people come, they slurp, they are happy and full and they leave! For a rainy Tuesday night it was busy so that must be a good sign. I loved my ramen, I'll have to come back and try some more soon!