I love a good date night and I love a good BYO Thai or Indian but some nights you want a little more candlelight and romance and Punch Lane is perfect place to find yourselves tucked away in a dimly lit room with nothing but time, wine, great food and lovely service. So pictures are going to be a little iffy – so be it I wasn't about to ruin everyone elses night by making a huge fuss and lots of flashes, you'll get the general idea!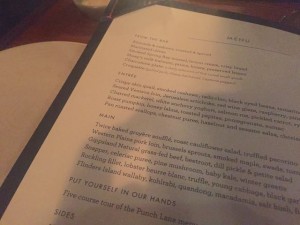 So the menu is a tough one, so many good choices and then they throw in specials as well, just as I was thinking I was there I got hit with a lamb rump I couldn't deny!! There are snacks from the bar to cover off those with a little (or very big!) appetite, I was tempted by mussels and halloumi and croquettes but I already knew there was dessert and a full page of cheese to choose from so onwards!
Entrees are a divine list of goodies with scallops, venison, charred mackerel and roasted quail. I couldn't go past pan roasted scallops with chestnut puree, hazelnut and sesame salsa with chorizo and sage. Perfectly caramlised scallops on a best of creamy, meets rich, meets nutty, meets meat!! Sensational!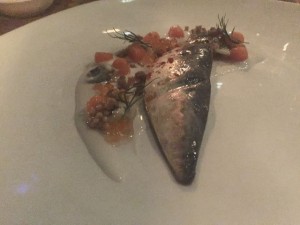 The charred mackerel with white anchovy yoghurt, salmon roe, pickled carrot and rye crisp was not so much charred but over delivered on the fishy promise, I love mackerel and anchovy so for me this was a killer dish – I just wish there was more!!
Mains – there was definitely some food envy when the ladies next to us got the twice baked gruyere soufflé, you can also score a pork lon with brissel sprouts and smoked maple or snapper with celeriac or Wallaby with kohlrabi.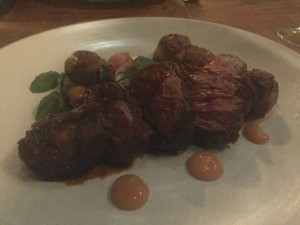 As I said – I had to go the lamb rump and it was a generous plate of perfectly pink lamb, with little roast potatoes – it was meat heaven and perfect with a side of big fat twice cooked Dobson's chips.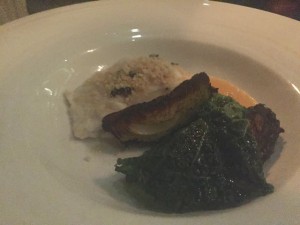 The rockling fillet with lobster beurre blanc, truffle, young cabbage and black garlic was super tasty, I wanted a whole bowl of the lobster beurre blanc it was decadently delicious and perfect with a light truffle flavour and the hearty young cabbage.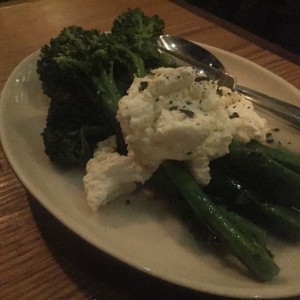 An additional side of green to make us feel better and as our waiter said "these are from your mum" broccolini with fresh ricotta was stunning, even though I had to save room for dessert I had to finish these!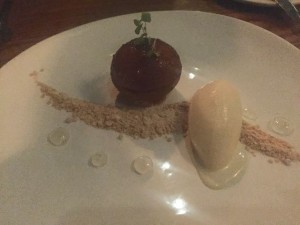 So dessert – I couldn't go past the spiced persimmon cake, Cointreau ice cream jam and caramalised white chocolate HELL YESS!! Served with a Trentham dessert wine that went perfectly with the floral and orange flavours. But you could also indulge in caramalised brandy apple with nut crumble, rhubarb and vanilla ice cream or almond milk panna cotta with chocolate sorbet….. oh maybe next time we just go for desserts!!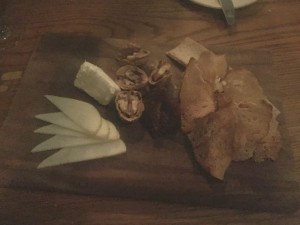 On top of all of that there is a page just for cheese on the menu – cheese, cheese, cheese – whatever the heart desires, I went for a super oozey La Tur from Piedmonte in Italy with "full flavour and lingering tang" it was perfect with our aged Malbec.
Derek and the rest of the team really looked after us and even though we were on an early table and had a two hour window before we had to leave, it was all timed perfectly and no one rushed us for running over a little. It was one of the nicest meals I have had with hubby in a while and I am smiling fondly as I type… about the meal or Hubby? Well both of course!