The revolution of food delivery in the last year is astounding as we have gone from hopefully having your local Thai pick up the phone and take an order to lounging around on your sofa with a plethora of apps and food services that will bring you pretty much anything your heart desires. Whether you want to cook it yourself but don't want to plan or shop or if you want your favourite restaurant dish delivered to your door – anything is possible.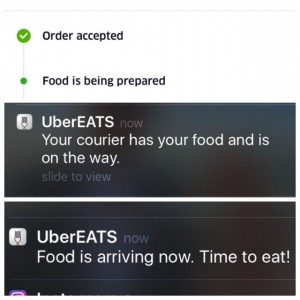 I am generally a late adopter, I don't think it's a bad thing to let everything settle in and let people fix the glitches and make sure it's a great experience so I only recently tried Uber Eats. Part of me tried not to look as all of the most amazing places are just at my finger tips, unlike the bike versions that make me feel guilty for delivering from places I can walk to and pick up myself! Uber Eats are hard core and will bring South Melbourne's finest St Ali to me – no queuing for a table in the cold or they will bring me Burch and Purchase desserts to my door – I don't even have to get dressed!!! See all far too tempting!
But, one cold Sunday lunchtime with no inspiration from the fridge and a craving for something a bit yummy I scrolled away, confident I wasn't being bad and I have a $10 code to make it even more tempting. So much good food, how to choose?! Well I went for the furthest I was likely to not go that afternoon but I knew would make hubby whoop from the couch! Let's get Stalactites Souvlaki!!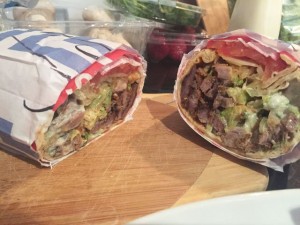 That's right a few taps of the phone, a couple of quick decisions later and we have delicious Greek food on the way, a lovely chargrilled chicken giros souvlaki with crisp lettuce, onion and tzatziki. AND a lovely big hunking chunks of lamb with chilli sauce souvlaki straight from the spit AND so lovely hot chips. It still felt naughty but it was bloody delicious!! You can get a good range of the Stalactites menu and even though it wasn't piping hot when it arrived, it was pretty darn quick, you get confirmations when your order is picked up and arriving and a quick ping in the microwave and it's all good (the food is in a Uber Eats bag but didn't seem to be in a thermal bag to keep it warm).
It was a great experience overall, far too tempting to have all of that food at your fingertips but I could do with learning some self control! But when you are in need of a good feed and you might want something different to the good old pizza or Thai delivery there are some very tempting opportunities for a growing spread of Melbournians.