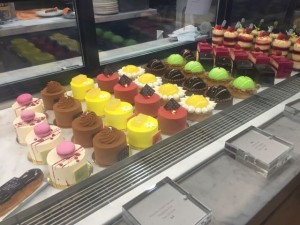 Crux & Co have opened opposite Kettle Black and this once desolate end of South Melbourne is getting pretty alluring!
Porridge, Eggs, muesli are the only 'ordinary' items you will see on the menu, from there you take off to polenta concia with chargrilled squid ink garlic toast and bisque benedict with tiger prawns, poached eggs and a lobster bisque hollandaise – Seriously!! Lunch is Scotch quail eggs, teriyaki tofu, fontina fondue and pork belly burger….. and that's before you get to the displays of pastries and cakes to tempt you in!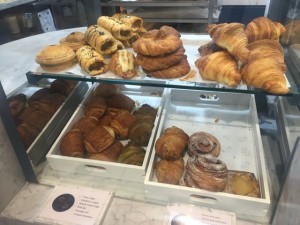 Pastries are calling me, croissants, escargot, Danish and the 'Crogle' a bagel meets croissant – well that has to be done!
The pace is packed with 'food blogger' looking types! Word is out and everyone wants to be here, it's one of those beautiful sunny but brisk days but we take a table in the covered doorway and happily settle in with a big, beautiful coffee.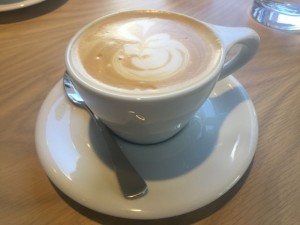 The staff are super lovely, helpful, friendly and aid in the deliberation of what on earth to order… without over ordering – my favourite thing!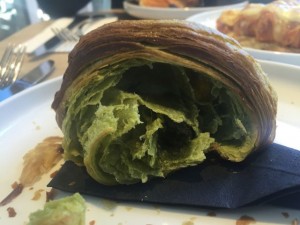 So the green tea croissant, visually stunning! Very green, there is a big dose of green tea through the middle that was a bit too much for me but the actual croissant was divine! Light, crisp, butter lavished and very, very green!!
The Plain Crogel with cream cheese was described as a more dense croissant, and it was a bit more dense and different with the cream cheese. It wasn't a favourite but it was tasty! And now I can say I have had a 'Crogel'!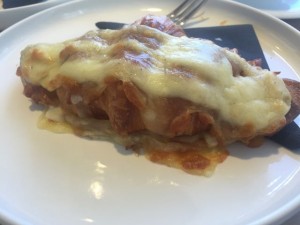 The savoury croissant for hubby went down very well! Crux and Co's take on a Croque in a croissant, maybe a 'Croqssant'! A rich, decadent béchamel with ham, toasted and melted and just very, very delicious!!
It was a flying visit, I am sure we'll be back once the crowds have cleared a bit!
If not you can always take away a bag full of pastries and cakes to enjoy at home – win win!!