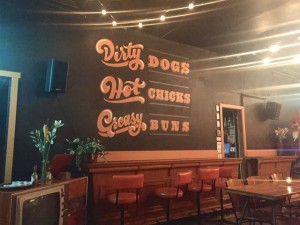 Possibly one of the best burgers in town and definitely THE place for spicy chicken tenders dipped in mash and gravy! We love Leonard's House of Love in South Yarra and they have now taken up residence at The Curtain Hotel and are bringing all the good lovin' to Northside!
The menu isn't totally gluten friendly – only realise after I have gotten my friend to the bar to order and wonder why she is getting the bun-less burger option (I am just crap at times!!) But it's all ok, there is the bun-less burger and she is all over the loaded fries. Hubby wanted a burger AND a hotdog – we talked him down! Other hubby isn't too hungry so we get some tenders for the table and the bill is ridiculously cheap with a few drinks chucked in.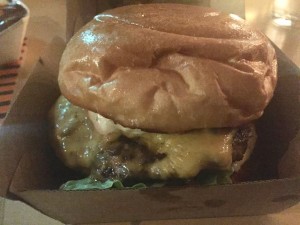 So the burger – well it's just all good! Beef brisket and short rib patty – serious stuff! And tastes seriously good. American cheese, special sauce with pickles and lettuce…. Oh just the memory is making my mouth water! It was definitely up there in the top five all time greats!! If that doesn't tempt you enough you can get double the fun or veggie or the Southside with fried chicken! Could totally smash that right now!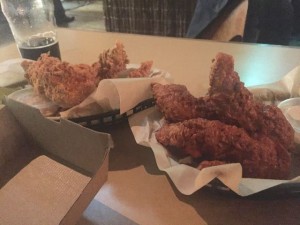 Chicken comes in popcorn, original tenders and spicy tenders form, we are both the original and spicy and they are soooooo good, I love the spicy, it's just the right level of burn and did I mention you can dip them into your gravy and mash!?!?!
Hotdogs are 'Dirty Dogs' with Coney Island frankfurters with cheese sauce and coney island sauce or spicy dog with kim chi and jalapenos… and pork crackle!!! OR the chicken and gravy roll with shredded charcoal chicken, gravy, cheese sauce, bbq onion and prok crackle – DAMN these boys know the way to my heart!!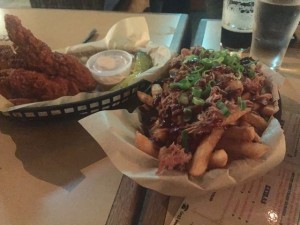 Loaded fries are 'Fancy Fries' with Charcoal chicken fries rocking shredded chicken, cheese sauce, cheeseburger stuffing (WHAT?!?!) Pepper gravy and bbq onions… take a breath and just feel that for a moment!! And then think about Smokey Ham Hock fries with slow cooked ham hock, cheese sauce, roast tomato sauce and spring onions. Or the Tex Mex fries with cheesesauce, guac, coriander, salsa and jalapenos – take any of those and have a good time!
It's a seriously (calorific) good place to get a fix on some carbs, fat, sugar and salt – all the good things in life! There is a whole lotta love at Leonard's whether you are at their home base in South Yarra or their Pop up just North of the city centre.
Hmmmm burgers!