When you are mostly consuming meat and veggies San Antone by Bludso's at the Crown is not a bad option, it's a little bit pricey but great quality smokin' hot meats! There is plenty to choose from and plenty to tempt you too. With a whole heap of starters to keep everyone happy, tacos, guacamole, nachos, chilli and fried green tomatoes.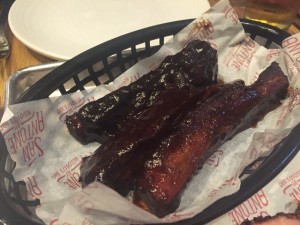 When you move into the middle of the menu and get to the Smoke Pit, it gets serious. Brisket, pulled pork, ribs and pork rib tips are available by the gram plus chicken, sausages and missed platters to try a bit of everything. The pork rib tips were sensational, all that wonderful smokiness and flavour in the pork – simply gorgeous.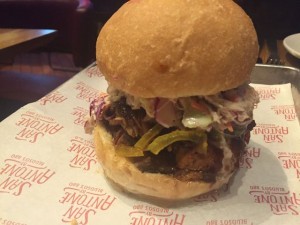 The Smoke Pit sandwiches keep Hubby's carb fettish at bay and the Big Kev has a few little treats for me to sneak out of the side with smoked brisket, pulled pork, slices of chicken sausage and piled up with tangy coleslaw, white onion, pickles and BBQ sauce. Good work Kev but bet you can't pick that up in one go!!!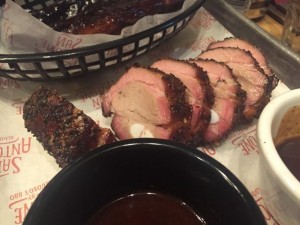 There are a whole lotta loaded fries happening with BBQ, chilli, mexi and soul fries but I am keeping clear and just having the meat. The special 'ends' offered were damn good, we had a really good feed and the bill wasn't too bad and service was ok.
It's a good option in the Crown for some good old Southern BBQ!