Bohemian Bar, found at the end of Southwharf and in excellent company with Munich Brauhaus and Meat Market, a little bit of Spain has come to Melbourne and it's a great place to be. We were around at the late afternoon time with a little one and the staff were great, we took a big booth on the proviso we would be out by 6.30pm – perfect for us as that's getting near bed time and gave us plenty of time to get some nice tapas and wine and catch up.
The menu is a mouth watering list of small dishes to savour and share with olives, chorizo, mussels, patatas bravas, meatballs, pork belly, Scallops, king prawns, croquette plus plenty of jamon and cheeses to enjoy.
We were on a bit of a grazing afternoon so this was perfect plus the staff were great with our smallest guest and a highchair and sticker book were quickly supplied to keep Little Miss very happy.
Let the feasting commence….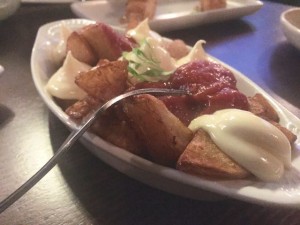 Patatas Bravas with spicy tomato sauce and aioli were fabulous, chunky little tapas chips with so much thick, rich saucing going on.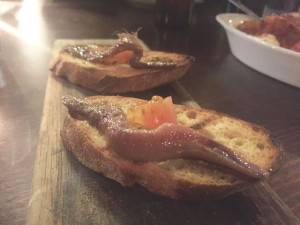 Anchovy tapa – lovely little white anchovies on sourdough – posh fish sandwich and I love it!!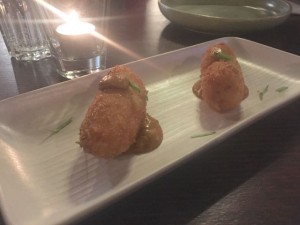 The croqueta of the day – who doesn't love a crisp little parcel of creamy loveliness – sooooo good!!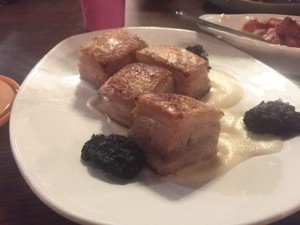 The pork belly was damn impressive, served with spiced apply puree and crisp morcilla – the top so crisp and then as you push down to cut the pork just falls apart underneath…. Seriously good dish!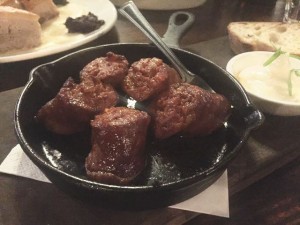 Chorizo – love a good spicy sausage with creamy aioli and bread – posh sausage sandwich and we love it!!
Hmmm did I mention there was dessert?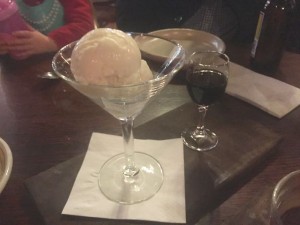 Sweet Pedro Ximenez sherry with vanilla bean ice cream – well hello!! A perfect match and love a little splash of Pedro – a Spanish affogato almost!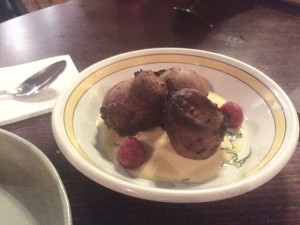 Chocolate donut balls with crème anglaise – can't resist, can't stop – so good!!!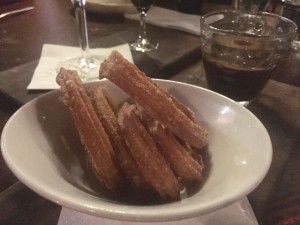 Chocolate churros and chocolate sauce………….. we are in tapas heaven here and feeling very decadent and spoilt!!
It was a fantastic after noon, we ate, we laughed, we drank and then we winked at our lovely host for the bill, just on time for our agreed departure. It was as shame the woman that bought the bill presented with the words "We must ask you to leave now" when we already were… but it was a great afternoon with exceptional food.