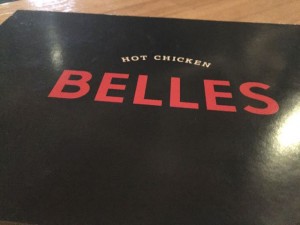 I feel like chicken tonight, like hot chicken tonight!!! Belle's has opened on a 'getting very trendy' Swan Street and we love it! I remember there used to be barely anywhere to choose from when popping to a gig at The Corner in Richmond and wanting to get some dinner. Now there is the poshest Hunky Dory and the poshest Grill'd and they even cater for the Messina crazy gelato lovers!! And they have Belle's, hailing from Belle's Diner in Brunswick they have brought their fresh vibes and spicy chicken to Richmond and we were happy to pull up a stool at the window and enjoy some damn good chicken!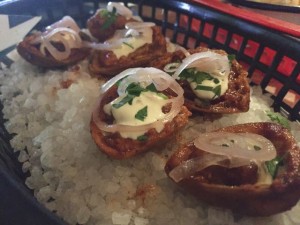 Clams – not chicken! I was intrigued! Last time I had clams it was at Grand Central oyster bar and they were biggest hunks of weirdness I had ever seen – was told afterwards they can be an acquired taste when they are that big! These were tiny little delicate ones with plenty of old bay seasoning and just delicious!!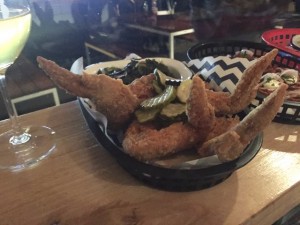 Oh the wings! Look how big and proud they are! None of this pathetic little gathering of bones with barely any meat, this was the real deal with perfect crispy coating – LOVE LOVE LICK!! With a side of collard greens with big chunks of ham and piles of wilted green greens – surely all that goodness counteracts the fried chicken?!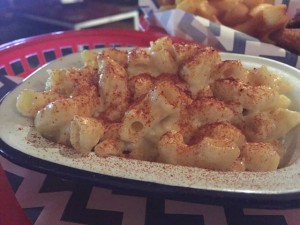 Mac n Cheese on special – one of the best I have had in ages, someone here knows how to smash a real cheesy sauce!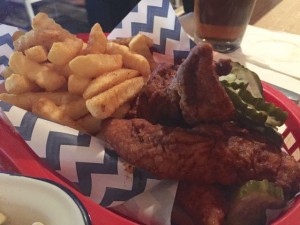 Spicy tenders, there were four levels Southern, Medium, Hot, Really Hot and Really F**kin Hot hubby was convinced we had the hottest as his nose when red and his eyes started running, I thought they had a burn but nothing too bad… I really have built up a good tolerance lately! Side of lovely fries and it was a short train ride to happy chicken town!!
Great place, great staff and a perfect stop off before dancing to Crystal Fighters at The Corner.