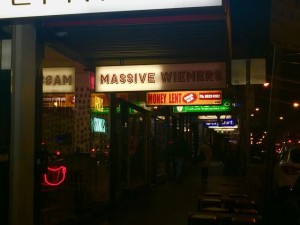 I had a Massive Wiener and I liked it!! Well I had a small wiener but it was still very tasty!! Massive Wieners making everyone laugh since…. well a while! It's a very simple and effective proposition – a slightly bigger than a hole in the wall hot dog diner. The counter is small and you often ring to get the guy to pop out from the kitchen, the walls are covered in faded pictures of Massive Wiener challengers and their hot or not so hot times. I thought 5 minutes was impressive until I realised there was a less than 5 minutes 'wiener winners' on the wall behind me.
It's not a complicated menu, would you like a hot dog? Yes? Great here you go!! Actually there are a few decisions to make… would you like a Little Pecker, Average Joe or Massive Wiener, that's 3inch, 6 inch or 12 inches of fun for everyone! Then you need to choose Classic with 'just the basics', Kraut with basics and tangy sauerkraut or pickle with the basics and zesty pickle relish. I'm a basics girl all the way, just a little mustard, ketchup and some diced sweet onion – happy sigh! There was supposed to be cheese in the basics… I saw no cheese!
On top of all of that is the messy mother of all hotdogs with Chilli Cheese – it's two separate meals really but if you want to combine them, get the napkins ready and dive into hot and spicy beef and bean chilli as well as your mustard and ketchup! Still a Massive 12 inch wiener with chilli cheese will only set you back $10 – bargain! You can keep adding to that with extras of bacon, diced tomato, jalepenos, more cheese or pickles.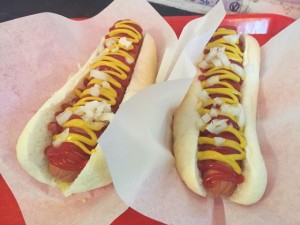 There is also a suspicious vegetarian section… why would you, how could you!! Hell I have decaf coffee, I guess it's the same!!
Fries are a similar proposal with little, average and massive – quite interested to see what a massive would look like but not tonight! French Fries are simple with a side of sauce but Disco Fries come with gravy, cheese and onions – oohhhh yes!! And Chilli Cheese fries of course! Fries slathered in hot and spicy beef and bean chilli with ketchup, mustard, cheese and onions.
It's a simple place to stop off for a feed, though I have a suspicion most people just like ordering Massive Wieners to make them laugh!!