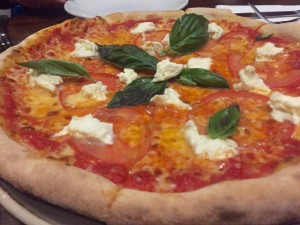 The White Rabbit, come on in, sit by the log fire and enjoy a little pizza or pasta and some lovely, friendly service. The menu is a pleasant mix of comforting food on a Winters night, rich ragu pasta, hearty risottos and perfect thin crust pizzas. Our margerita to share to start with was met with happy grins from the pizza addicts. Great base, holding it's own even though it seems impossible when so thin. Not too much, not too little tomato sauce and gooey melted mozzarella and fresh basil LOVE LOVE LOVE!!!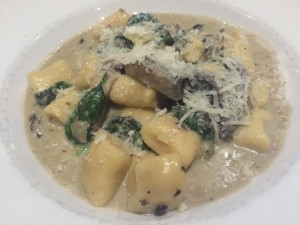 So I had to get the guy taking our order to decide for me in the end – duck ragu vs gnocchi with smoked Gouda mushroom sauce, spinach and pine nuts. I think either way the end result would have been the same – very happy and completely stuffed! It was so beautifully rich, with gorgeous little dumplings and then the cheese sauce was pungent and full of garlic and all the good stuff! Calories aside it was a fantastic dinner!!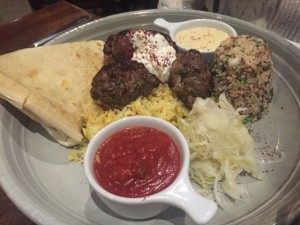 Hubby went for the Middle Eastern beef kebab – deconstructed and much posher than his normal kebab (and a fair bit more expensive too!) served with pickled cabbage, hummus, quinoa, tabouli, saffron rice and fresh flat bread. He was in carb heaven and the beef was delish but even he was beaten by the size of this one!!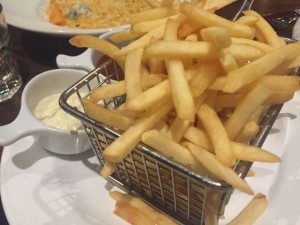 Always fries for the table, we pigged out a bit tonight but I blame the cold weather and the feeling we should all be going into hibernation! White rabbit is a nice place to be, if you are nearby I would definitely drop by!