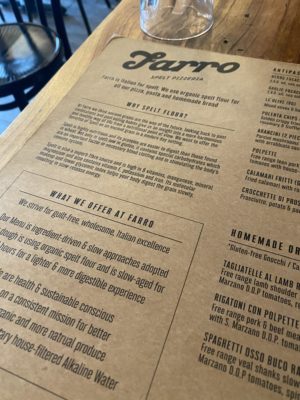 When you take a punt and book a restaurant you have never heard of and it works out brilliantly, Pizza Farro in Fitzroy was one of a choice of 4, it won because it was near our tram, where we were going afterwards and fabulous spelt flour pizzas that are easier on the guy than over processed wheat! It's a cute little spot near the busy corner of Brunswick Street and Johnston, the staff are super lovely, relaxed and obviously passionate about their food, I loved the guy who took the time to talk to us about why spelt or 'farro' is so much better for you but also how great their pizza bases are that you shouldn't be able to tell the difference – SOLD!!
The menu is pretty big, a wide selection of delicious Italian favourites, I'll admit it was a bit of a tough negotiation and we completely over ordered but it was totally worth it! To start with, get yourself a beer or wine from their decent list and ten maybe nibble on a garlic focaccia or polpette or calamari fritti or arancini… you can see where I am starting to struggle!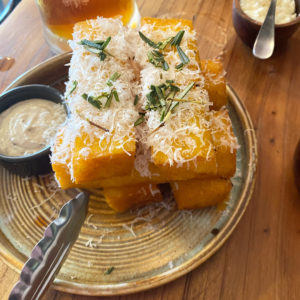 Polenta chips, not seen as often on a menu but incredibly good, so crispy and salty with lots of lovely pecorino and a rosemary and truffle mayonnaise – I am in heaven!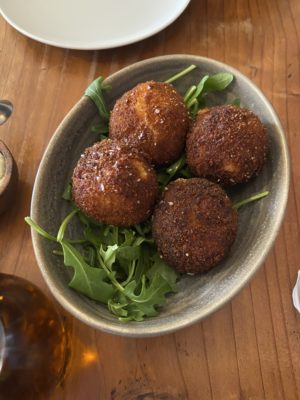 I am a croquette addict and when there are arancini and croquettes on the menu it's a bit of a dilemma! But Prosciutto, potato and parmesan croquette is always going to be a winner (and Gluten free!) – so super creamy and ….. cue mouth watering and stomach rumbling at the memory!!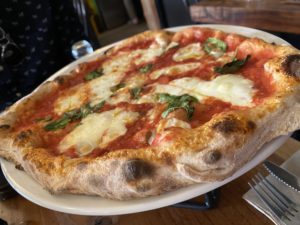 Pasta and gnocchi all sound amazing, spelt pasta available for an extra $3, think along the lines of rich lamb ragu tagliatelle or rigatoni with polpette or osso buco with spaghetti…. Oh so good! Spaghetti al nero would have been my first choice (if I wasn't eating all of the pizza!) and also a ricotta gnocchi with slow braised mushroom….. seriously!!! Husband was so in love he cried at one point "why can't we move here"!!!
But no pasta today, it's all about the beautiful spelt pizza, available in all the usual suspects, margherita, napoletana, prosciutto, capricciosa plus some super traditional with 'Ortolana' packed with veggies, parmigiana with eggplant and parmesan or 'paesan' with hot sopressa salami. We went for good old margherita, it was the most perfect base, thin, crispy but not too bendy, just the right amount of mozzarella and fresh basil – perfecto!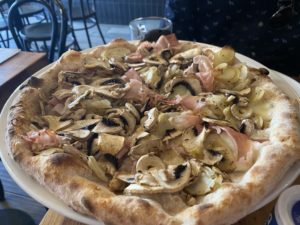 White based pizzas also come with a variety of tempting topping including 'zucca bianca' with mozzarella, pecorino, roasted pumpkin, chilli, pine nuts and rosemary or 'patate e tartufo' with a black truffle base, mozzarella, percorino, potato and rosemary or quattro formaggi with mozzarella, gorgonzola picante, pecorino and parmesan – delish!! We went for the 'forestiera' with mozzarella, cup mushrooms, smoked leg ham and potato – it was really great but I think they might have left the mozzarella off!! We were greedy little pizza piggies just ploughing through but afterwards I realised it wasn't cheesy! It was a good pizza, I bet it's awesome with some ooey-gooey cheese!
We rarely make it to dessert, too many carbs in our bellies today but they sounded good. This place had a great vibe, I can imagine a bit food delivery bill if we were nearby, it would be a Friday night go to!