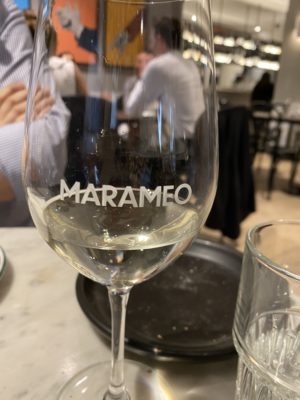 It feels like forever since we went for a nice daytime shopping and lunching adventure! After taking in a bit of culture at the NGV, spending a little cash on Bourke Street and enjoying a refreshing cider at Container Bar we headed to newish spot Marameo on Russell Place, where the old Sarti used to be. It's feel much bigger and brighter, there is a great vibe for a Thursday lunchtime and you can hear a busy dining room as you enter from the street up the stairs.
I feel that the lunch special 'Spaghetti cacio e pepe' for just $15, or $20 with a Spritz is pulling in a good crowd, though we got swept up in those 'here for a short time not a good time'…. Bring me the wine list fine sir!! It was pretty busy and a little hectic, we weren't in a rush so all good. Wines by the glass were great, we had a fantastic Gruner Veltliner and a couple of Chenin Blanc, love a lazy long lunch and cheeking on my gluten free regime!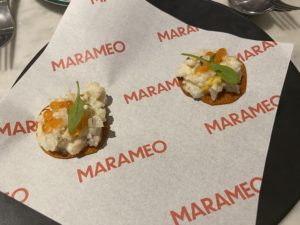 The menu is a good balance and not too many dishes for me to deliberate on, Antipasti starts with Oysters with shallot and cucumber vinaigrette or Wagyu tartare cannoli or Seared scallops with parsnip or Burrata with heirloom tomato salad. I loved the idea of the Sashimi tuna with veal mayo, celery and caper leaves but I feel I have exceeded my quota of one veal dish every five years so we went for the beautiful sounding 'Carrot crisp with bug tail, corn and salmon roe' it was gorgeous and so it should be at $9 a mouthful!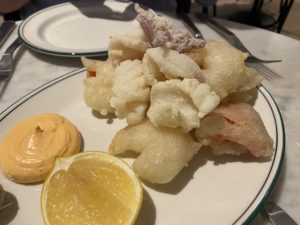 The Calamari, prawns and capsicum with chilli were lightly fried and with a great spicy aioli, a naughty treat but so delish!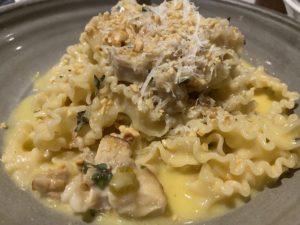 Pasta comes in the form of Ricotta ravioli with eggplant, tomato and basil or Risotto with porcini mushroom and thyme or Squid ink spaghetti with WA blue swimmer crab or chilli, tomato, fish roe Cavatelli with pork sausage and broccoli – how to choose!! Well if you are cheating on your gluten free routine you should have epic pasta so ignoring that voice in my head reminding how much it costs to make pasta, we went for the 'Reginette' with rabbit, hazelnuts and pecorino at $32, it was gorgeous, silky pasta, rich sauce and a little crunch from the nuts. It was a sensational dish.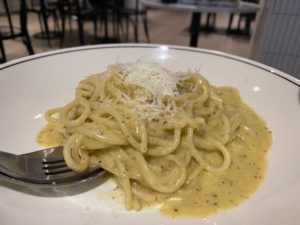 To balance out the bill we shared the Spaghetti cacio e pepe, a gorgeous simple pasta with black pepper and cheese melted into a light sauce covering al dente spaghetti – I can see why everyone is popping in for a quick bowl of pasta for lunch!! At $15 you can't go wrong.
We didn't make it to mains but they sounds great, think – Cone Bay barramundi, Grilled spatchcock, Jack's Creek wagyu rump or Cape Grim dry aged rib eye – next time!
It was all nice enough, I am sure we might pop by again for a lunch special another time J