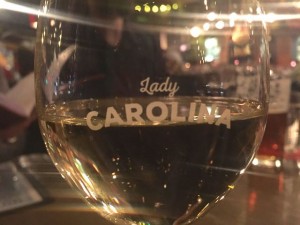 Lady Carolina were lovely enough to invite us down for a visit and check out what's happening with a new menu and a beautiful restaurant, it's a big space with an outdoor area and plenty of room for everyone to enjoy. Perhaps a bit cold, it's hard to heat a big space like this but the food and friendly staff certainly warm you up! There is great food, great drinks and a lot of passion with the team and we loved every bit of our night there!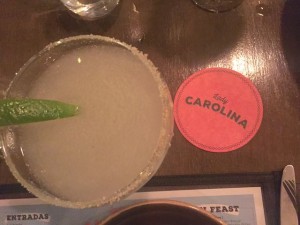 You can't not try a Lady Margarita when visiting with Cazadores Reposado tequila, agave, lime and they were damn fine!!
Dinner is a mouthwatering menu of sharing dishes packed full of Latin flavour and you can start with Entradas, a delicious list of Latin favourites like Guacamole, Elote Asado – charred corn, Brocheta de Carne – scotch fillet, Ceviche and lots more.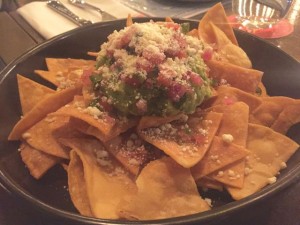 I loved the guacamole with pico de gallo and queso fresco cheese with freshly made corn chips – that little touch of cheese was a new one for me and it totally lifted it to the best guacamole in town.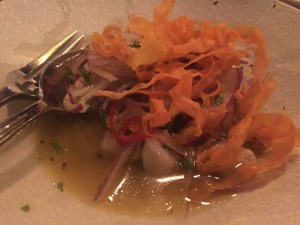 The ceviche with white fish marinated in citrus, aji chillies, onion, coriander and sweet potato crisps was a beautiful example of this wonderful dish. Just the right amount of citrus, spice and the sweet potato crisps made a nice crunch to the whole dish.
Comida Callejera – the street foods section is a great place to place with all the goodness of tacos, tostadas and empanadas.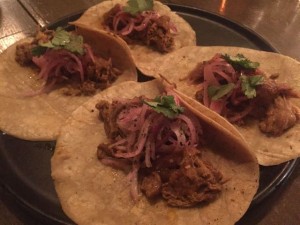 Beautiful Cochinita Pibil Tacos with 12 hour slow cooked pork wrapped in banana leaves marinated in "achiote" spices and topped with onion, orange and habanero pickles…. divine.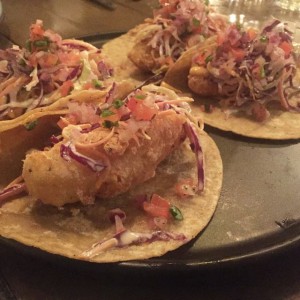 Oh how I love a Baja Taco – I often think it is a good representation of how good a Mexican is and this was one of the best. That perfect, crisp, dark beer battered fish with slaw, pico de gallo and chipotle aioli. The perfect fish taco!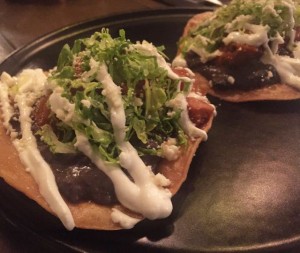 The Chicken Tinga Tostada was an amazing dish, I thought I heard chicken 'tikka' and it wasn't far off, delicately spiced chicken with lettuce, queso fresco and cream.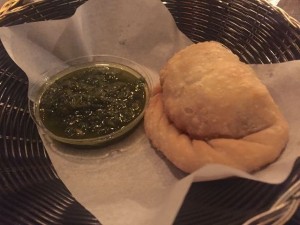 Empanadas come as 'de Pino' filled with mince beef, egg, black olives and sultanas or 'de Moriscos' with spiced mix seafood filling. Both fantastic with rich, fried pastry and delicious fillings – these are perfect with a cold beer or a wonderful cocktail.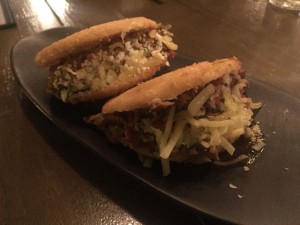 The 'Arepa Mechada' a little Venezuelan corn meal pocket filled with braised beef and cheese were little snack pockets of loveliness and again, if we weren't eating quite so much we would have just had a whole heap of these!!!
The Parilla (grill) has all the meaty dishes with 'Longanisa' House made Chilean style chorizo, 'Pollo a la Brasa' Whole butterfly spatchcock marinated in Peruvian spices, 'Pescado del Dia' Chef choice of seasonal seafood, 'Costilla de Chancho'Señora Adriana family recipe pork short ribs and 'Vacio' Argentinian style skirt steak.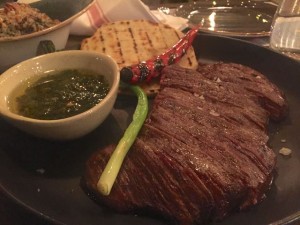 The 'Vacio' Argentinian style skirt steak with 'churrasca' Chillean style bread, chilli, spring onions and a fantastic chimichurri sauce which gave the meat a real lift – delish!
Salads and sides are fantastic dishes in their own right with quinoa, frijoles, pickles. The Santa Fe Salad with baby cos lettuce, red onion, corn kernels, black beans, chipotle ranch with tortilla strips sounded great.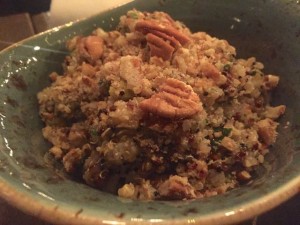 Inca Quinoa with cold mixed quinoa, grilled capsicum, onion, olives and pecan nuts was a nice dish.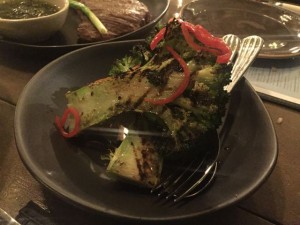 Beautiful broccoli, I have a bit of an addiction to broccoli at the mo and this is a great example of a little charring and spice can make it sing.
Moving on to desserts, there are some absolute winners here with pumpkin fritters, churros, flan and more…. well we might just have to share a few!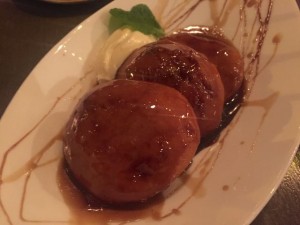 'Sopapillas Posadas' Pumpkin fritters heated in a dark brown sugar, cinnamon and clove syrup served with creme fraiche – you know you want them!!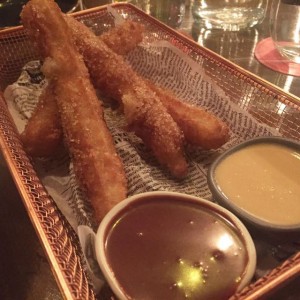 Churros served with cajeta caramel cream and a Mexican spiced chocolate sauce were traditional Latin churros so a bit more doughy in the middle and not the super crisp you might be used to but they are delicious!
Cindy's Grandmas Flan with cream cheese and pecan crème caramel was utterly divine with a thicker consistency with the cream cheese and the rich caramel. It was a dish no one wants to share!!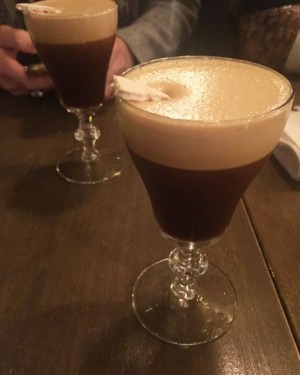 What goes best with desserts, well we had some pretty amazing fortified malbec that I totally loved and we also had the Mexican Nights – Lady Carolina's take on the espresso martini but seriously next level, I was couldn't sleep later on but it was totally worth it!!
Special mention to Barry and Jerome who spoiled us with such a lovely night, I can't wait to come back and have some more guacamole, empanadas and cocktails very soon.