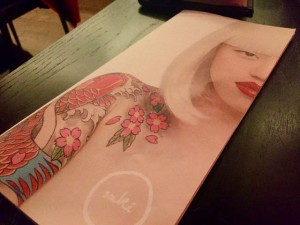 Sake has been in Melbourne for some time but there is a different vibe to their new home on Flinders Lane, it's classy, moody, decadent, fun and loveable all at the same time! The staff are fantastic, we were lucky enough to be invited to the opening party back in April and the same fantastic team are there today bringing sensational food with utter professionalism and skill (and plenty of smiles too!). The space is tricky but they are absolutely making it work with a large open bar and dining area in the back, front dining area is potentially a bit cold – both in temperature being near the door but also in mood. Downstairs is a fantastic cocktail / tapas bar and outside area that will be gold in the Summer.
Now – a warning…… the menu is extensive! It's beautifully presented and it's not until you have to start making decisions that you realise there are probably a hundred items and they all sound bloody amazing! Let me take you on an 'over-orderers' journey through the Sake menu…….
So you can easily fill up on sushi and sashimi –rookie mistake!! But you could absolutely come in and just have beautiful sake and sushi and sashimi and call that night number 1. There are 12 'flavours' across nigiri and sashimi including tuna, kingfish, salmon, prawn, eel, toro (a kind of fatty tuna) and …. Fish of the day! So all super fishy!! Then there are the makimono sushi rolls that we know and love, how to choose between…..
– Rainbow roll toro with salmon, Hamachi and ume
– Ebi ten tempura wild shrimp with myoga and sesame
– Negi hama kingfish, chive and bonito
– Spider maki soft shell crab, sudachi and shiso
– Spicy tuna espelette with fermented young chilli
– Organic vegetable renkon, simmered daikon and chorogi
Ok, you can only have one on this journey so I had to go with the Spicy tuna espelette (a type of pepper?) with fermented young chilli and lots of lovely fresh shaved ginger and wasabi….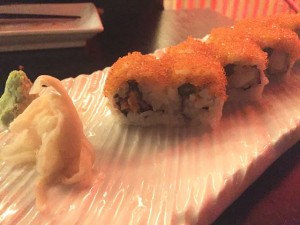 …… absolutely perfect! Now recently I have whinged on about prices and just a general feeling that Melbourne is getting a bit greedy and over charging for dishes but this was a perfect example of where the quality, effort, presentation and whole experience rolled up into a pretty impressive bill for two of us but I didn't flinch, it was a wonderful meal and totally worth the higher than our average Wednesday night!
So we are moving on to the Sushi bar stop number two on our Sake safari! I wanted to stay here a while as the dishes all sounded so good and I remembered the oysters with fizzy grape from the opening – they were the bomb!! So choose from the following – I dare you!
– Hokkaido scallop seaweed gremolata and sea herbs
– Hamachi cape gooseberry and tomato jelly
– Virgin pacific oyster fizzy grape and curry spice (3 pieces)
– Rice cracker crusted tuna pink grapefruit and vintage soy
– Snapper ceviche crustacean essence and kakai pumpkin
Yum yum yum! Firstly let's talk late to the party…. I already missed the oysters, so fresh they are all gone for the day! Then I saw the next stop coming up and quickly jumped on board to the 'Sake Classics' Now this was definitely my favourite stop with mouthwatering little numbers like;
– Kingfish jalapeño yuzu soy, jalapeño and coriander
– Shrimp tempura
– 'Glacier 51' toothfish hokkori kobocha and shiroshitatou $44
– Chicken karaage with japanese curry aioli
– Mb 9+ master kobe with Asian pear and fermented pepper $97
– Prawn shumai
A mixed bag of dishes with a little basket of prawn shumai all the way up to a $97 Master kobe with Asian pear…. Oh I would have loved it all!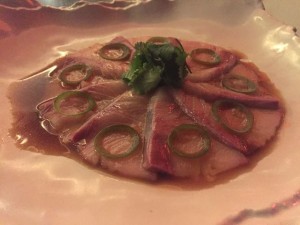 So the Kingfish jalapeño yuzu soy, jalapeño and coriander we also had at the opening and it was not hard for us to devour this whole pate between us. The freshest of fish, expertly sliced and then the hum of the jalapeño with the sweetness of the soy and the lift of the coriander………… every bite was a pleasure!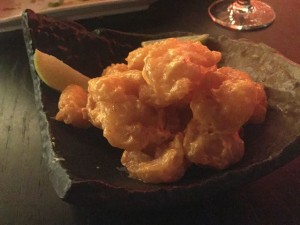 Shrimp tempura was fantastic, super little crispy pops of shrimp slathered in a Japanese kewpie heaven! Loved!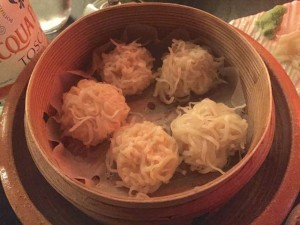 Prawn shumai – the most delicate little noodle wrapped balls, it looks like you will never pick them up with chopsticks but they hold and they are delicious!
Sadly we have to leave and see what else is happening, so we head into the land of 'Cold starters', though everything sounded fantastic we didn't stop for long but you could easily have ordered any of the below dishes;
– Tsukemono local vegetables aged in oak barrels
– Chicken skin aromatic roots and herbs and sudachi
– Carpaccio avocado and oyster mushroom
– Beef tataki shichimi togarashi and salted plum
– House salad sprouting broccoli, ancient quinoa and farmers cheese
– Handmade tofu heritage tomato and local shiso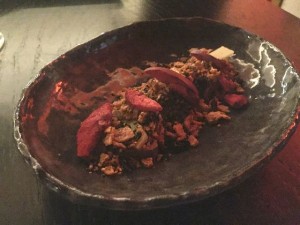 The Beef tataki shichimi togarashi and salted plum was a beautiful dish with wafer thin succulent beef and sweet dried plums, love this dish!!
The next stop was 'Warm starters' again another list of dishes that you want to stretch that waistline and squeeze them all in, I overlooked the sweet corn karaage from the opening night (we had two of those bad boys!!) but you can't have all of the dishes… well not in one night!
– Ember roasted asparagus kombu and meyer lemon
– Artichokes slowly cooked in uamizuzakura
– Artisanal miso cured egg yolk and one year onion
– Sweet corn karaage sea salt and kewpie
– Fire roasted eggplant black tea bouillon and furikake
Brace yourself we are off again, skidding towards 'stuff on sticks' or 'Yakitori' town! An easy place to play and have a few mouthfuls from the following meaty treats;
– Thigh welsh onion and tare
– Breast wasabi and umami glaze
– Wing vintage soy and mandarin
– Charred skin sake kasu and sea salt
– Fillet yuzu koshso and olive oil
– Leg togarashi and lemon
– Meatball egg yolk and smoked soy
The stomach is getting a little full now, but I just want a little bit more!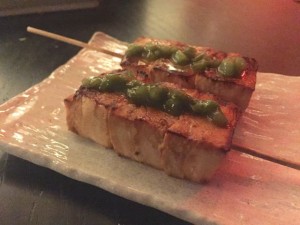 The Breast wasabi and umami glaze yakitori was lovely with tender chicken but watch out, if you inhale the wrong way with that wasabi you will feel the burn! Brilliant!!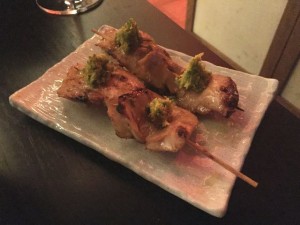 Fillet yuzu koshso and olive oil was one dish too many, it was lovely but we were officially full to the brim, time to get off the train and head home but there are still a few more stops you can make including a little old place call 'Mains' – yep, I didn't even make it to mains!!! But in my defence you wouldn't get to have lots of lovely small dishes if you just go gung ho into mains!! But they did sound pretty damn good;
· 'Glacier 51' toothfish hokkori kobocha with shiroshitatou
· Slow cooked pork jowl kobujime, raw scallop and shiitake
· Crispy duck green tomato, hassaku and nasturtium
· Barramundi citrus leaf curry and iyoukan
· Spot prawn swarnadwipa, spice and tangelo
· Mb 9+ master kobe, asian pear with fermented pepper
Yes, all sound amazing dishes and I would gladly take a duck and a pork jowl now please! But wait…. There is still the final stop – the crescendo of 'Large Dishes', I think next time you go on this journey maybe you start here and work back so you don't fill up and miss out on;
– Organic chicken smoked in hay with chicken fat rice
– Slow roasted pork shoulder white kim chi
– King oyster mushrooms buried in fig leaves
– Black market beef brisket roasted over ancient charcoal with fermented pears, broccoli and yeast
WOW! Seriously the evil genius behind this menu could feed me every night and I would never get bored, I would be broke but never bored!! We never made it near the journey around Sake desserts…. That might have to be a night all to itself! The menu is tantalising with;
– Goma – Salted 70% south american chocolate mousse, caramelized white chocolate and sesame ice
cream
– Matcha bomb – Green tea parfait, kinako ice cream, omochi, black sugar syrup and toasted
meringue
– Mont blanc – maple mousse, caramelized nuts, chestnut paste and nikka whiskey ice cream
– Nihon nemesis – delicate chocolate cake, raspberry kanten, matcha raspberry sorbet and
honeycomb
– Cassis white chocolate – umeshu granita, cherry blossom and textures of spring
– Sake handmade ice creams;
– white sesame ice cream
– green tea ice cream
– nikka whiskey ice cream
– kinako ice cream
– raspberry sorbet
Probably best we never saw that little list on the night, I would have made myself ill forcing in a nice Matcha Bomb or Nihon Nemesis!!
I think we have covered off the menu is out of this world, certainly a 'don't make me choose', bordering on cruel and an absolutely foodie dream! You aren't going to satisfy yourself in one visit but at least you have a reliable regular you can hit up anytime for a different dish or two every time!