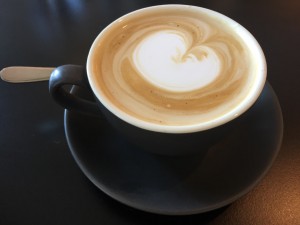 No. 84 Bridport Street is home to good coffee and a menu that is far from your average smashed avocado and scrambled eggs on toast. Dishes like Eggs benedict with maple bacon and potato rosti or a quack burger with succulent duck or chai infused porridge with almond praline. You can still have smashed avocado but there are a lot of other dishes to try too!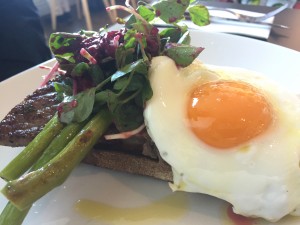 Hubby was thrilled with his open steak sandwich with minute steak, maple glazed bacon, fried egg, asparagus, cheese, tomato relish and beetroot dressed snow pea tendrils on sourdough. Hearty, wholesome and a perfect fried egg.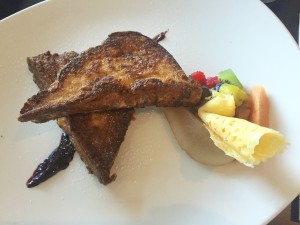 My Kaya french toast wasn't my normal breakie but I fancied something sweet and this was a gorgeous dish with Kaya (Malaysian coconut jam) stuffed french toast with parmesan, chocolate and beetroot drizzle and a parmesan lace crisp. The sweet with the salty parmesan was really good and I loved everything together. It was a very elevated dish for a little cafe in Albert Park – there are always a few surprises here.
Great for an adventure through their menu of a quick stop for a coffee, there is always a friendly smile and a cookie to temp you!