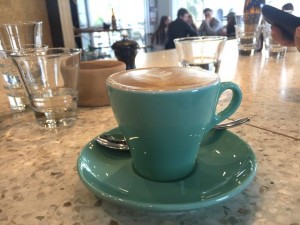 Cafe Lafayette on the Port Melbourne seafront is a lovely, light, breezy spot with a cool fit out and really happy staff!! The menu is all about great breakfast and some very special specials. Looking around you can see some very smug customers with crazy good looking concoctions of 'Signature Freaky Shakes' with popcorn and donuts and lots more…. I'm not sure where you would start or whether you would eat again for the rest of the day with the Brownie and double chocolate – chocolate walnut brownie with nutella, candied popcorn, pretzels and cream! I would love to indulge but I want my breakie!!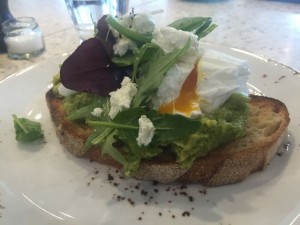 Sensational Avocado Smash Fresh with Persian feta, poached eggs, grains and nuts on toast. I'm a bit over the avo smash but this was a beauty and hubby scrapped his plate clean!!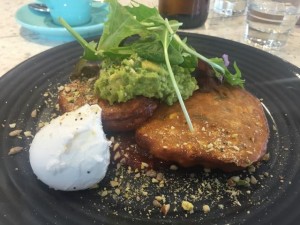 My zucchini and corn fritters with a perfectly poached eggs was a gorgeous dish with a little spicy tomato chutney and a big smile… check out that yolk porn…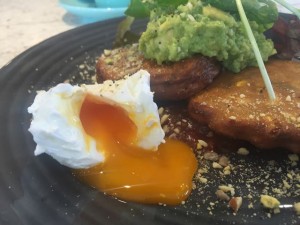 Great, break, great coffee, freaky shakes and then something else I have never come across before that I just had to try.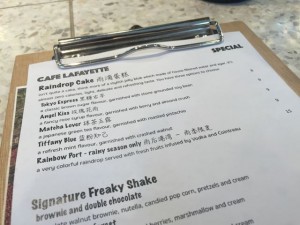 Raindrop Cake – not quite a cake, more of a 'stylish jelly blob' made with agar and almost zero calories until you add on your flavours!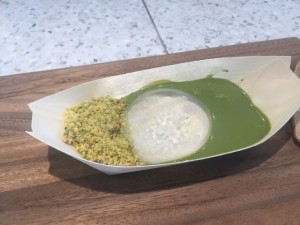 The Matcha Lover with Japanese green tea and garnished with roasted pistachios was strange and yummy at the same time! The raindrop is a firm little jelly with no real flavour and then the earthy green tea and sweet nuts make for a really nice dessert.
It's a great place, beautiful views of the bay and lots of great food to indulge in – and freaky shakes and raindrops to try!