It's cold, you're tired and you can't muster the energy to make dinner….. who are you goona call?! Well order on your phone?! I am a big fan of Menulog and they have so many places to choose from now (this was not sponsored or paid for by Menulog!!) and there are a few places on my re-order but tonight hubby wanted burgers, really good burgers.
We have eaten at Third Wave before but now they come to us! Hurrah!!
It's all about meat burgers, ribs, pulled pork, ribs, chicken and then all the deliciousness on the side with fries, wings, mac n cheese and heaps more.
But it's burgers we want and they have a few to pick from the naked cheeseburger, the cheeseburger royale, the classic, the juicy and then there is chicken and veggie for the odd kids!!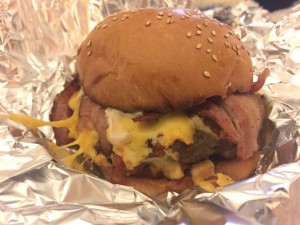 We went the Cheeseburger Royale with 150 gram patty, double aged jack cheese, tomato relish, garlic mayo, tomatoes, streaky bacon and apparently 'even better with a double patty'. I went for a single and it was massive! Hubby went the double and had to back out halfway through – they are generous!! They survived delivery which is always a good sign, the meat was good, seemed more than 150 grams! Tasty, good quality and a great fix when you don't want to leave the house!!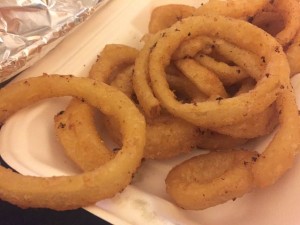 Rings were ok, not the best, not the worst, they were breaded and tasted good. Fries were all soggy but not everything can survive delivery! We still had a few!
Mac n Cheese was pretty good, it was a big portion and we were already filled up with burgers but we squeezed a bit in…. it would be rude not to!!
Overall it was good stuff, delivered on time, friendly driver, food was carefully packed and stowed, tasted good, was still pretty hot too. I was a happy little burger!!!