Lacking a bit of the Italian hospitality, Solarino was pretty quiet and there was no greeting when we walked in, so we stood a bit awkwardly and then decided to take a table, hoping someone would realise and come and see us! Eventually they did and we got some water and menus. The vibe was definitely a bit cold and for a Saturday lunchtime there were only two other tables….. I had that moment of hesitation where you think you should maybe just get up and leave but then it started to get a little nicer, some lovely fresh focaccia with fennel and salt arrived and we ordered a nice glass of Bethany Rose. Things were looking up!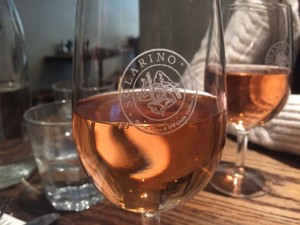 We both went with the lunchtime specials, the menu is as you would expect with antipasto, bruschetta, zuppa, pasta and veal or sausages with fried gnocchi but they are all at the high end of the pricing with pastas going up to $27! We went for the more reasonable priced lunchtime pastas.
Hubby's rigatoni with Napoli tomato sauce and basil was nice, decent portion, he finished off the bread and was very happy. I was a bit surprised that the offer of parmesan was a bowl of the weird dried stuff rather than freshly grated.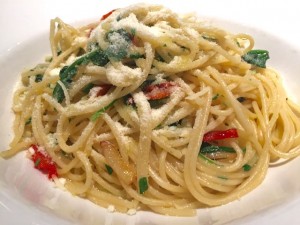 My spaghettini aglio with olio and spinach and chilli was nice, quite a bit of oil and a bit bland, the chilli didn't have much kick to it but the pasta was well cooked.
It wasn't the nicest lunch, but we've had worse.