My family have recently introduced 'Winthursday' where every Thursday throughout Winter they go out and try somewhere new and sometimes I tag along! The other week we ended up in Brighton at Sons of Mary, a cosy looking bistro just off the Nepean and surprisingly busy for a Thursday evening, they don't take bookings so we waited in the little seated area for a table to come up.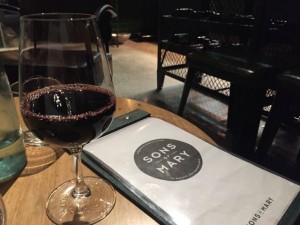 It didn't take too long and guys brought us drinks in between so we were pretty happy, we ended up next to the table of 20 women celebrating a birthday with many hats, boas and their own instaframe! But they were fine and it explained why there weren't as many tables free.
So menu – for dinner there are a selection of house flat breads to nibble on, pork, scallops, steak, salmon, pasta and some very appealing specials but the the thing I noticed overall is the prices were on the high end. With more Melbourne CBD style venues realising there is money in them 'burbs and setting up shop the prices are starting to creep up way past the good old BYO Thai and pub grub. The flatbreads are from $10 for a cheese to $16 for a chorizo, the mains were heading up in high $20's and over $30 for a steak but as long as they are delicious we don't mind so much.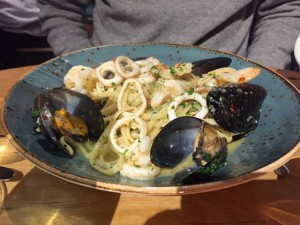 We skipped entrees which range across the tapas on selection that day and we went straight to mains with hubby going for the seafood linguine and a flatbread on the side – carb loading!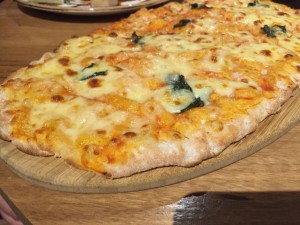 I was glad he did get the flatbread as it was lovely but also as my dish was pretty small so I wanted the bread to fill up on! Seafood Linguine was $28 with Chilli, Garlic, Calamari, Mussels, Prawns, Olive Oil and White Wine, he loved it but it didn't seem much for the price, pasta is not expensive to make and the seafood was mostly the cheaper bits with calamari and mussels and a couple of prawns.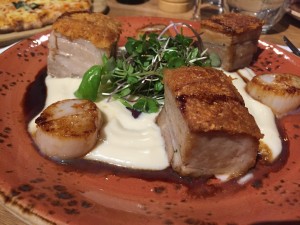 My Roasted Pork Belly with Seared Scallops, Cauliflower Cream, Vino Cotto and Baby Herbs was a very small plate for $26. The pork was cooked beautifully but the scallops were cold and raw, cauliflower cream was fine but it just felt like a very small portion for the price – thankfully there was flatbread!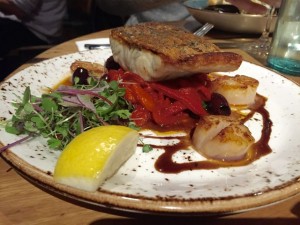 Another had the barramundi special and seemed to enjoy, her scallops were cooked and the fish was nice.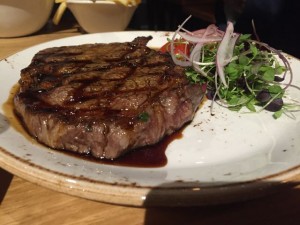 The final one had the char-grilled Black Angus Scotch Fillet with 'Pommes Frites' a 'Petite Salad' and Port Jus – again it seemed to be on a very small plate for $34 but it looked like a decent steak and a little bowl of pommes frites – he finished every last bite anyway!
It was all ok, the staff were nice, the atmosphere was pleasant and I am sure the locals are thrilled they have somewhere of this calibre on their doorsteps.