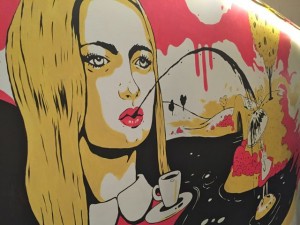 Let's go on a little adventure, I said. Let's go and find Alice in Wonderland… or Melbourne! Alice Nivens is the cutest little café, snuggled in an arcade opposite Flinders Street Station, they know how to take a boring space and brighten it up. Past the sushi and stamp shops and a rather impressive looking cake decorator shop is a very pretty seating area, outside the main shop but fenced in so that you could be anywhere with rabbits on the table and the smell of baking wafting from the café.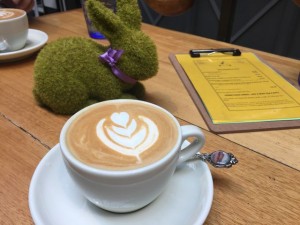 The painting on the main wall is fantastic, a modern day Alice watching over the team and cakes. So what to eat? The guys have breakfast running with freshly baked muffins, Alice's house made toasted superfoods muesli, mini breakfast buns and Old fashioned toast with the choice of butter, honey, strawberry jam, peanut butter or vegemite. Lunch offers choices such as sandwiches and bagels and then a array of cakes to treat yourself with slices, brownies, cupcakes and slices of cake.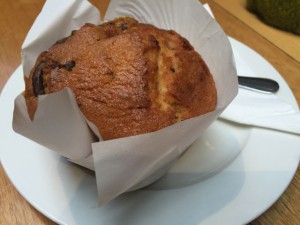 I went for the breakfast muffin with banana and chocolate, there was definitely banana and there was definitely chocolate and it was a decadent little treat with my coffee.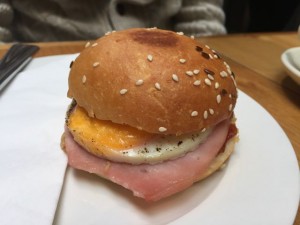 Hubby went for a delicate little breakfast bun with egg, bacon, cheddar and tomato relish in a brioche bun and he most definitely enjoyed it!! With so many expensive donut and cronut spots opening it was nice to see someone making good old cakes perfect for afternoon tea!