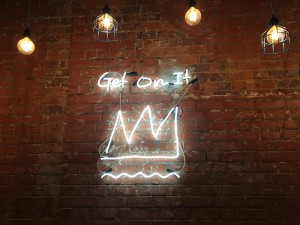 We love a good burger and we have wanted to get to On It Burgers for ages so when an Ikea trip is required on a dreary Sunday I totally combined it with a bit of burger research! Amongst the bustling of Victoria Street with is many Vietnamese and Asian restaurants is a little burger diner doing a great job with all your favourite burgers, fries, shakes and rings.
I'm a pretty 'safe' burger girl but you can get pretty much anything here with burgers starting with the classic with beef, cheese, pickles, onion, ketchup and mustard. And then reaching the Blackbeard with sriracha soft shell crab in a black bun! In between there is bacon and chicken and mushroom and spice and plenty of double patties on the go.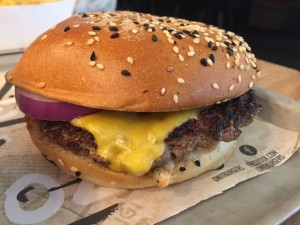 I went the Classic and it was a good burger, definitely up there with some of the better ones. Good bun, held everything until the final mouthful, excellent saucing, good meaty patty and a nice bit of salad – all in all it was definitely in the top ten!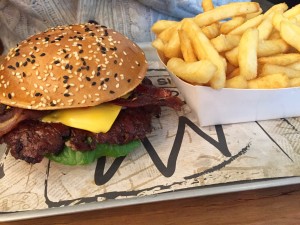 Hubby had the Smash Hit with a smashed patty, bacon, cheese, pickles, white onion, mustard, ketchup, mayo and lettuce. Hubby was very happy, though he liked mine for the not smashed burger as they tend to be a little more rosy in the middle and not as dry but I loved hubby's burger for the extra saucing with the mayo – YUM!!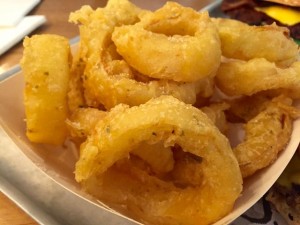 Onion rings were bloody amazing! Loved them, perfect crispy shells and then soft lovely onions inside – hmmmmmm!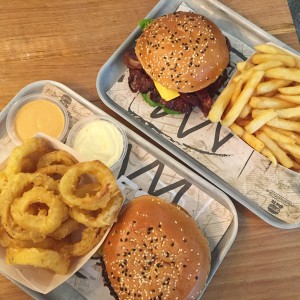 Fries where textbook good with some mayo to dip, hubby had the strawberry thick shake that was soooo good you know there was nothing good for you in it!! Service was good, it was pretty quiet early on but there was a steady procession of delivery peeps coming in to get those lucky hungover people getting their burgers delivered to their doors!