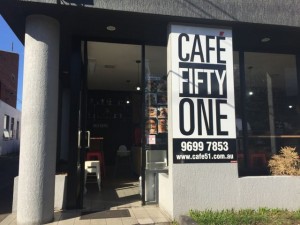 Of the beaten tracks of Port Melbourne, head into the more industrial area and you'll find a sunny little spot where tradies and bloggers converge to gorge on excessive burgers, disco fries, onion straws and mac bombs! There is a breakie menu where the boys can get their egg and bacon or ham and cheese toastie but it's all about the burgers and the guys at Cafe 51 are building quite a name for themselves in the larger than life burgers and consumption challenges.
You can absolutely get a regular burger with a single patty, cheese, salad and sauce #burgerlove or a The Snitz or The Double B but instagram is full of the OTT burgers with multiple patties, mac n cheese, chocolate, fired chicken and fried banana!! Check it out;
The Elvis
Beef patty, cheddar cheese, bacon, fried banana. Peanut butter and XXX bbq sauce.
OR
The Meataxe
Beef patty, crispy southern style fried chicken, bacon, double american cheddar, onion straws, two jalapeno poppers, lettuce. Housemade chipotle and XXX BBQ sauce.
OR
The Paralyser $20 with no bun – two southern style crispy chicken burgers as the bun with another chicken burger in the middle plus two beef patties, bacon, five slices of cheese and all the sauces!
From the meek to the extreme!!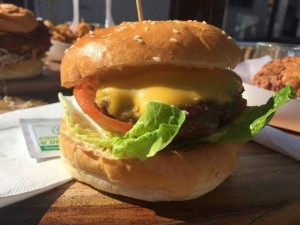 So the #Burgerlove – beef patty, lettuce, tomato, american cheddar and #burgerlove sauce – just great! Good quality meat, fresh buns and salad – note the most perfect tomato slice the size of the bun! Perfectly melted cheese and a good level of sauce. Happy Happy Happy!!
The CFK! Crispy southern style fried chicken, american cheddar, bacon, coleslaw, housemade chipotle and XXX BBQ sauce – frickin amazing!! Loved the chicken, succulent, juicy, fried gorgeousness with good slaw, great cheese but it's that chipotle and BBQ sauce that rocked my world!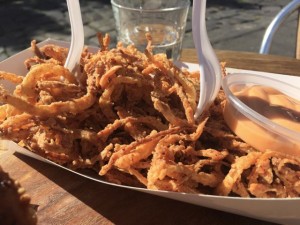 Onion strings were good, great flavour and plenty of them but I think I prefer a meatier onion rings to these.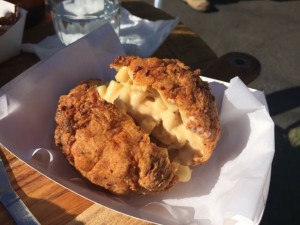 And The Mac Bomb!! OMG  – Cheese stuffed mac N cheese patty, battered and deep fried – it's pretty bloody great! It's all way off the diet plan but if you need a good carb / fat / sugar / salt fix this is a damn good option to visit and if you are hungover on a Saturday morning those little delivery bikes will deliver this to you – perfection!!!