Bridge Road Richmond is a street full of foodie fun with a plethora of different cuisines and so many choices for breakfast, lunch and dinner. We ladies who lunch found Academy Kitchen and Bar by accident but we were really glad we did. It's a little unassuming from outside but inside is a cosy, understated, exposed brick eatery with friendly staff and a level of plating that hinted at a very talented team in the kitchen.
There is a fantastic sounding dinner menu with steaks, pasta and risottos but we are in for lunch which covers a great selection of dishes across macaroni and gorgonzola croquettes, chilli caramel duck ribs, duck and truffle parfait, field mushroom and goats cheese burger, The Richmond Reuben, Slow cooked lamb roll, 318 Cheeseburger with bacon, onion, pesto aioli and Fries with rosemary aioli – Choice, choices!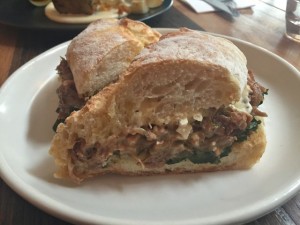 The slow cooked lamb roll with feta, caramelised onion and kale – sensational slow cooked lamb with rosemary and just perfectly sublime! The salty feta and wilted kale are a perfect match in the crusty ciabatta – a ridiculously good lunch!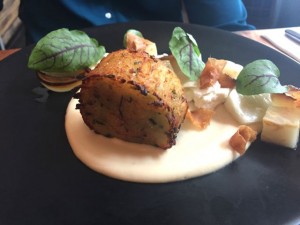 My friends Winter veg salad with celeriac, Jerusalem artichokes, roasted baby onion and goats curd was a stunning plate, far from the expectations in the menu description! It was very well received and showed there is a great team in the kitchen producing food they should be really proud of with great seasonal produce and foodie flare. We'll definitely be back to try some more from Academy again soon!