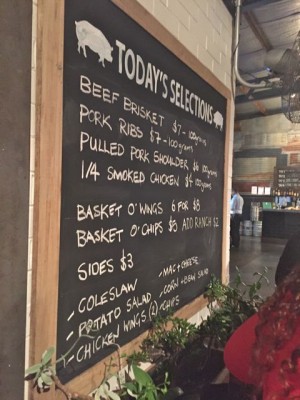 Big Pig, Little Pig, a converted warehouse in the industrial guts of Moorabin with big booths, big boys, big beers and big platters of delicious meat! It's a great spot, beautifully set up in the middle of the warehouses and offices, it's a little meat lovin' haven.
The proposition is simple, if you want to eat, come on by! Grab a tray and get your meat grooves on with Brisket, Smoked Chicken, Pulled Pork and Spare Ribs and grab some sides with cute little paper pots of mac 'n' cheese, corn 'n' beans, pickles, coleslaw, smoked bacon or a bucket of wings!
There are share platters that help with some of the decision making or you can buy meat in 100g slabs.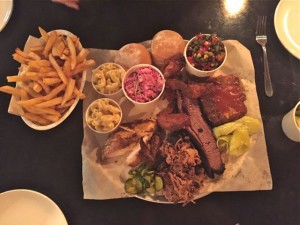 We went the Family Fun platter for $60 with Chicken Wings, Pulled Pork, Smoked Chicken 200g, Brisket 250g, Macaroni Cheese, a Basket of Chips and 2 Bread Rolls (for the boys!!) and a few extras because we couldn't believe dinner for four could be less than $100!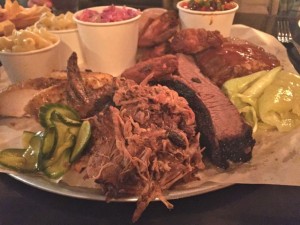 The chicken was lovely and juicy, the brisket flavoursome but I preferred the succulent pile of pulled pork! And those spare ribs that were cooked so perfectly you had to scoop the meat up off the patter as it had fallen off the bones!!
Loved all the sides, excellent coleslaw, not too creamy! Good Mac 'n' cheese, hubby loved the chips and I loved a palate cleansing pickle through the feasting!
It was a good, fun joint, the boys liked their beers and seriously – all that good food for $20 a head – can't go wrong…. Unless you make a wrong turn – it's pretty dark down there!!
Thanks for the amazing meat-tastic times Big Pig, Little Pig!!