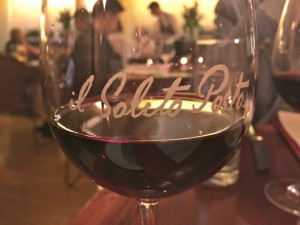 A sensational little spot in town for a great Italian meal and a lovely glass of wine. Just down off the chaos of Collins Street you step down into a little piece of Italian heaven with pasta, ragu, tiramisu and Montepulciano. We haven't been for a while but it was just as great as I remember and one of the nicest meals we have had in ages. The staff are wonderful, the service impeccable and the food is out of this world.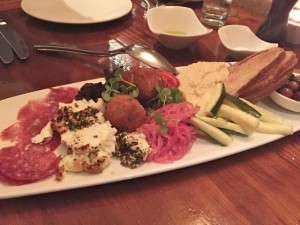 The 'Antipasto della casa – Seasonal assaggini from both the land and sea' a perfect platter of all the treats from the entrees with sweet and sour eggplant, pickled vegetables, arancini and proscuitto – just beautiful and a perfect serve for two of us to enjoy and sneak in another dish.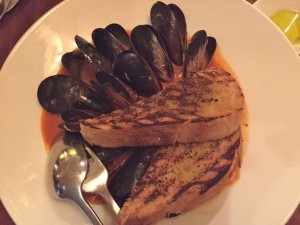 'Cozze in Padella' – Local mussels with fresh tomato, white wine, chilli, garlic and basil with grilled sourdough – WOW such an amazing dish and that perfectly charred beautiful fresh bread made avoiding carbs totally worth a cheat! Mussels beautiful, plump, fresh and a divine sauce.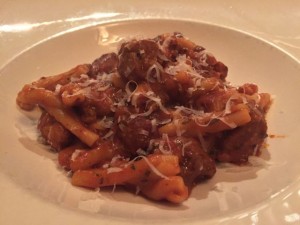 Hubby's 'Casarecce ragu di porchetta' with twisted pasta with slow braised pork shoulder, thyme, white wine and tomato. Hubby thought the ragu was a little dry but it was still a wonderful dish with amazing fresh pasta and delicious sauce, a total comfort dish!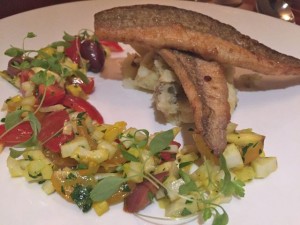 I had one of the specials on the night – King Whiting with fennel and tomato salad, a perfect light dish with two pieces of grilled whiting on top of a wonderful seasonal salad of sweet little cherry tomatoes and that hit of aniseed with the fennel – just beautiful.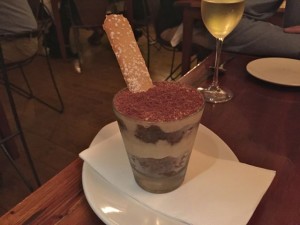 And the perfect way to finish the night – Tiramisu with sponge finger biscuits, soaked in coffee and liqueur, layered with sweetened Mascarpone – I LOVE!!! With a little glass of amaretto and I am in heaven.  And the bill was surprisingly reasonable with a bottle of wine included too.  This is the perfect spot for a romantic catch up, dinner with friends or showing off to visitors a perfect spot of Melbourne.