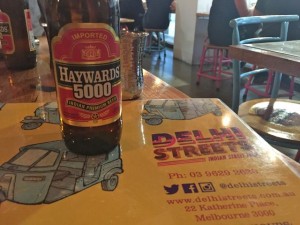 Delhi Streets Indian Street food is a little spicy hub, with maybe 20 seats, if you are lucky enough to get one (and they take bookings – Hurrah!) you will be in for treat! Especially if you get to watch the… whats the Indian equivalent of the Nonna? Anyway, there is a proper tandoor in there and they have the big pillows to deftly deliver the fresh naans to stick to the inside and then they take big metal hooks and fish them back out! Love it!!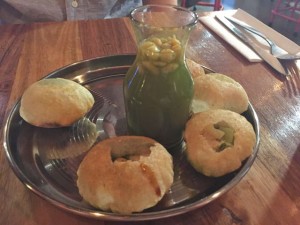 "Hands-on" street food! – The Pani Puri were amazing – Crispy cracker balls stuffed with potatoes, chickpeas, onions, tamarind chutney and spiced water. You pop in a little of the sauce and then pop the whole thing into your mouth – so good!!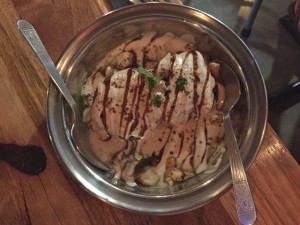 Dahi Vada or the "Skinny Girl Choice" – Feather light lentil dumplings served with yogurt and sweet & tangy tamarind and mint chutneys – Fabo!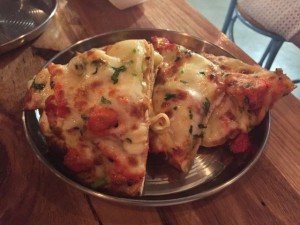 So I get to have pizza AND indian?! Score!! Tandoori Chicken Pizza Naan! It's the dream!! Hefty slices with chicken with a secret masala sauce and coriander, cheese, capsicum and onions – IT IS AMAZING!!!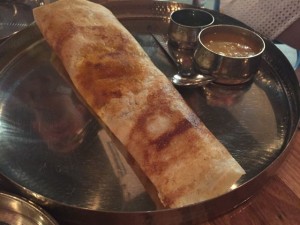 And then there are the dosa! Our paneer dosa was huge!! Savoury crepes with a filling of Indian style ricotta cheese, served alongside mint chutney and Sambar (lentil based vegetable soup). It was like a naughty Indian spring roll! Slightly greasy but totally divine!
I loved Delhi Streets, can't wait to get back for some of the currys and some more Indian Street food – it rocks!!