How far would I go for a great pizza? At least to Essendon! The guys at 400 Gradi Essendon invited us down to see their great set up just on Keilor Road and it was a night of fabulous Italian feasting! The fit out is beautiful, very light and airy with plenty of room for everyone from big family groups to romantic couples. The staff were great, friendly and happy to explain the menu and there was a lot of passion from them about the Italian heritage and the food they are serving.
There is a great drinks list and also a damn good Pinot Grigio on tap, the menu is a crazy good list of all things amazing including the traditional pizzas, pastas, meats, arancini, calamari…. Ohhhh I could eat it all!!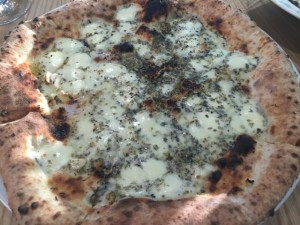 We went with the recommended garlic and cheese focaccia, which was a pizza in itself, with a perfect wafer thin base and plenty of good garlic and a spattering of lovely oozy cheese.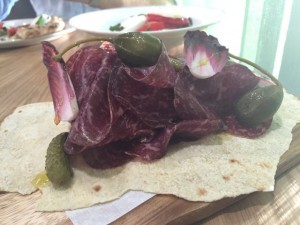 The air dried wagyu bresoala was heavenly, just ribbons of rich, beautiful meat!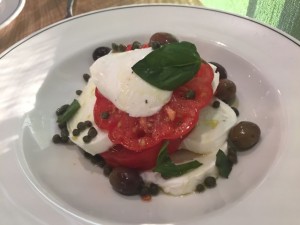 The insalata caprese was a bowl of summer with big fat tomatoes, super soft mozzarella, fresh basil and capers – DIVINE!!
Put them altogether with a glass of wine and I was one happy little foodie!!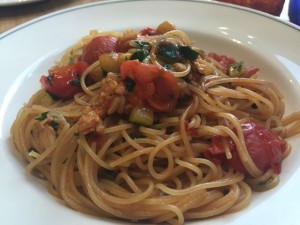 But there was more! The seafood spaghettini with spanner crab, garlic, chilli, white wine and lobster bisque was one of the best dishes I have eat in ages, so much flavour!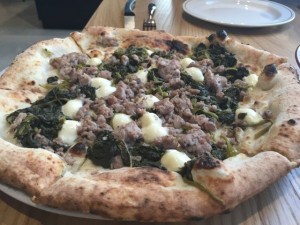 The pizza was not my best choice, I am usually a margherita girl and I should know to stick to what I like but I went completely off the reservation and got the Salsiccia e friarielli with a white base, fior di latte, pork sausage and friarelli Napoletani. There was a great explanation of what friarielli is, an Italian spinach of sorts, sounded like a super healthy pizza but I craved the simple margherita with the tomato base and the melted cheese. It was nice but not my best choice!
It was a lovely evening, we were back over the bridge before the sunset with full tums and smiles. Thanks Gradi!