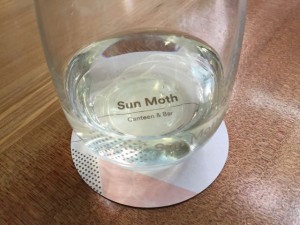 Beautiful Sunmoth Canteen and Bar, hidden away in true Melbourne style, I lead hubby down a laneway lined with the most beautiful converted buildings that I fantasise about living in when I find that $4m I misplaced! Google maps in hand the red dot gets closer until – hurrah – we have found Sunmoth! Once inside it is a chilled out space with lots of plants and natural woods. Simply good food, service and after a hard mornings shop – a nice glass of Riesling.
The menu is easy going and simple – want breakie or a sandwich or soup? There's super grains, poached eggs and rosemary fruit toast or you can get a super healthy soup, mega healthy Kale and Quinoa or sandwiches with chicken, pulled pork hock or mega healthy again kale and quinoa!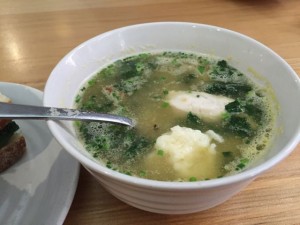 The sweetcorn and chicken soup with buttermilk dumplings , fried shallots, greens and dashi broth is like a bowl of sunshine, it makes you feel good to be alive! Lots of chicken and those gorgeous little dumplings and then just wholesome broth and greens – I felt positively angelic eating it!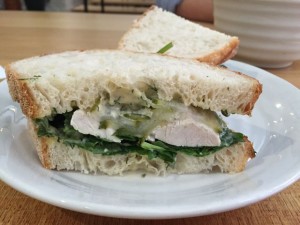 The chicken sandwich was on another level with a monumentally great dill and caper mayo, pickles and greens – a Damn fine sandwich!
I loved it, it was quintessential Melbourne, we had just been turned away from some other place around the corner by some rude little man and just happened upon Sunmoth in my list of must do's. And we found a perfect little rest stop. We love Sunmoth – it's a great place to be!!